THE GROUP COACHING PROGRAM FOR HIGH-LEVEL COACHES, TEACHERS AND ENTREPRENEURS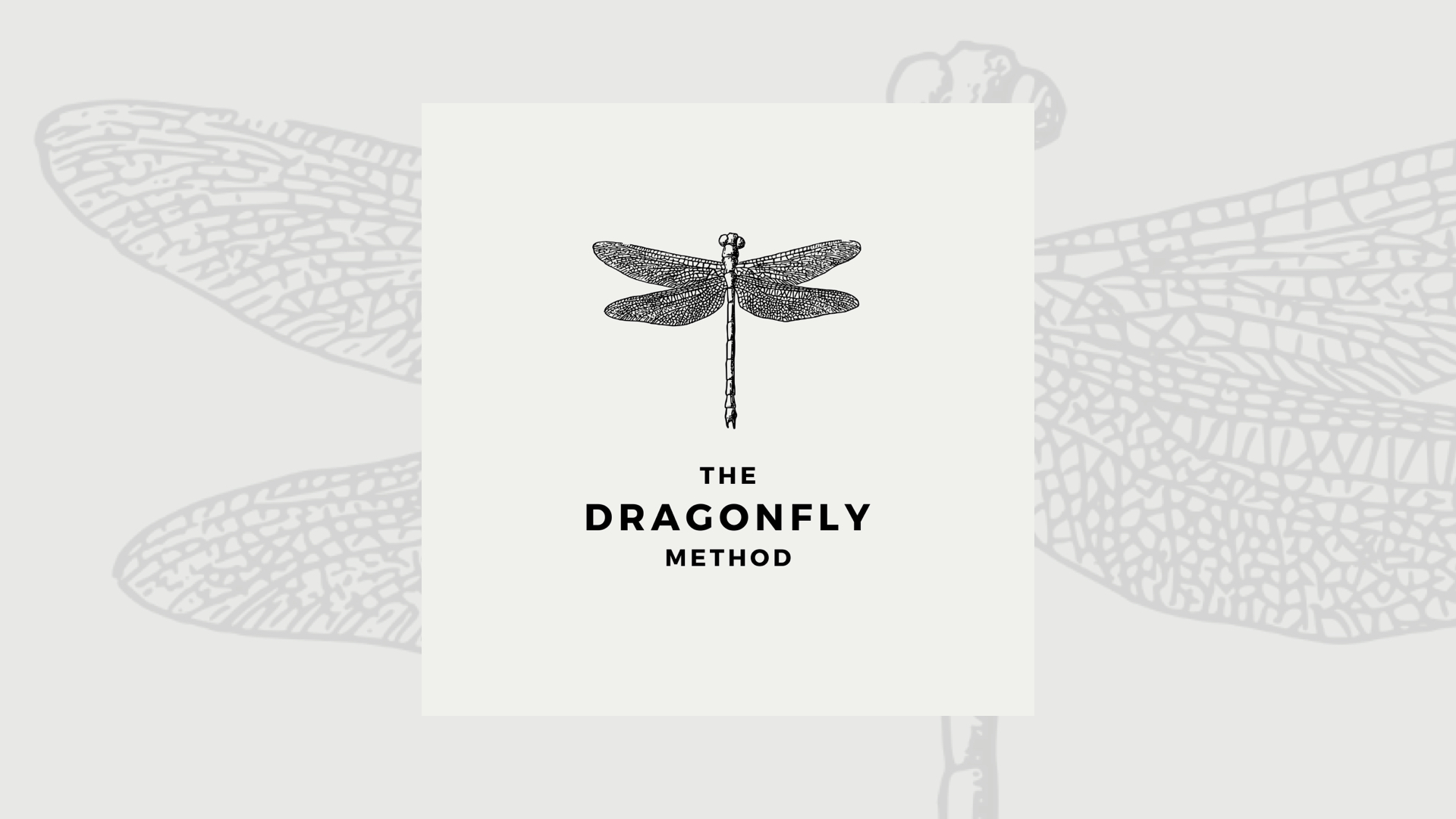 EXPANSIVE COACHING CONTAINER DESIGNED TO MOVE YOU
INTO A PLACE OF NATURAL FLOW
THE FINAL ROUND!!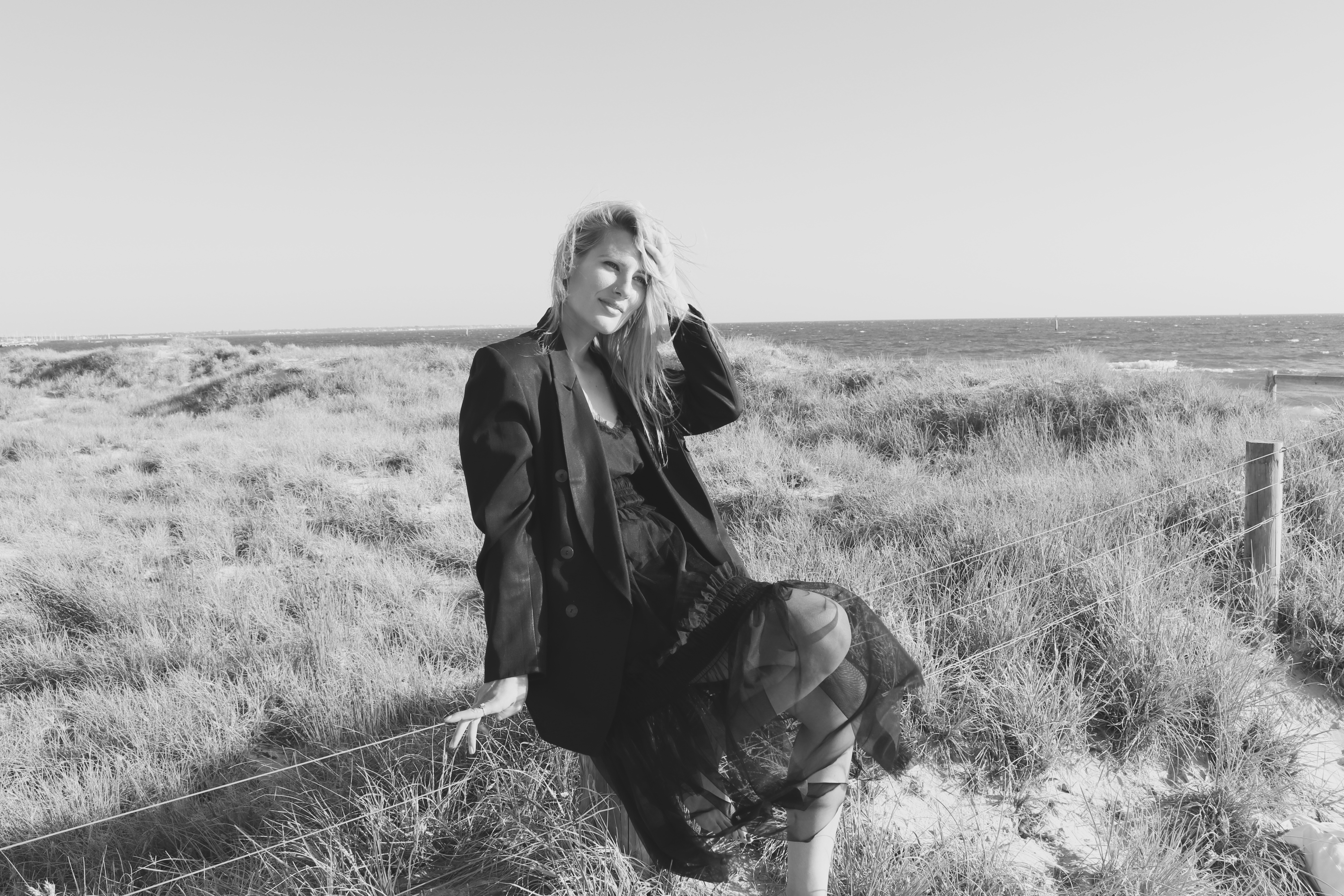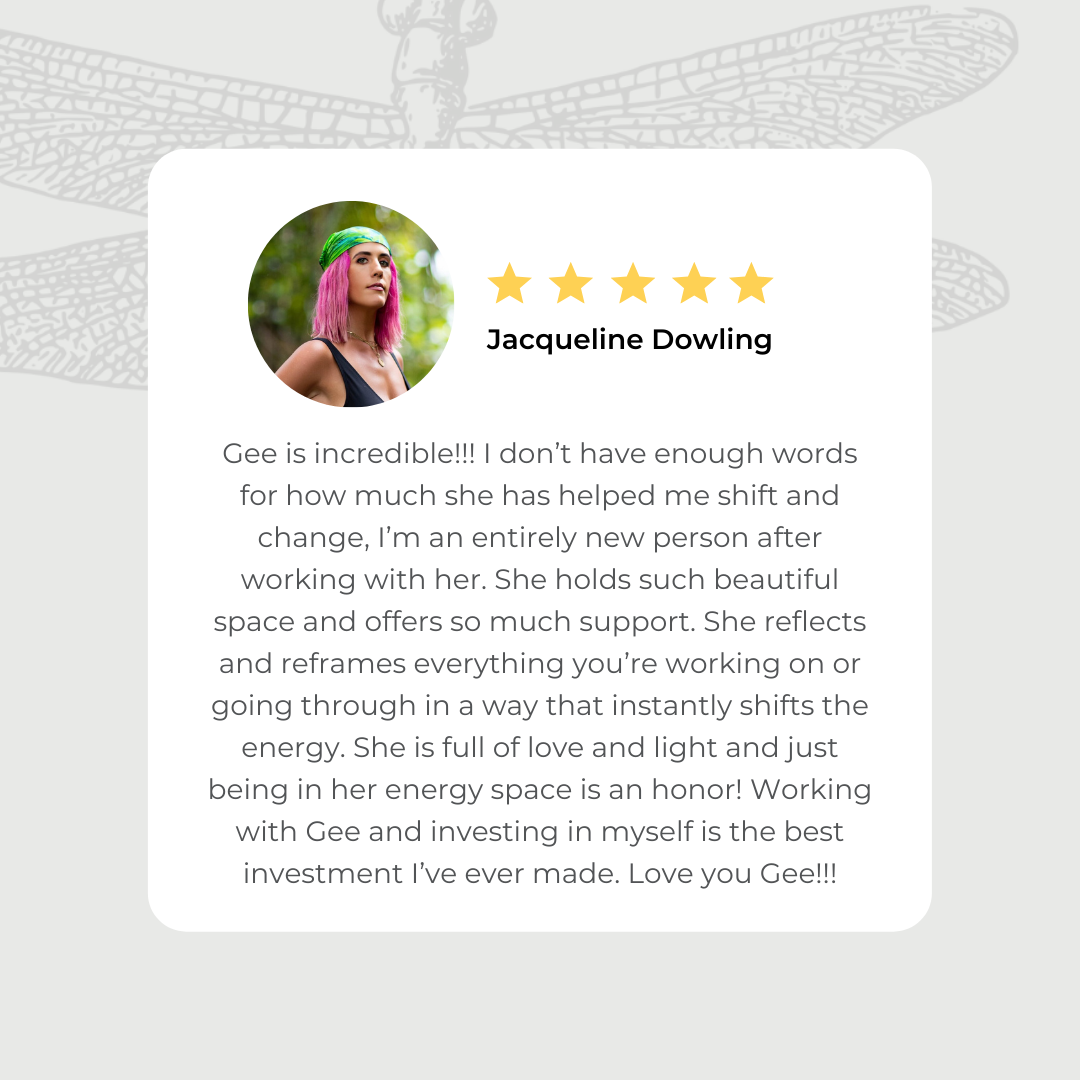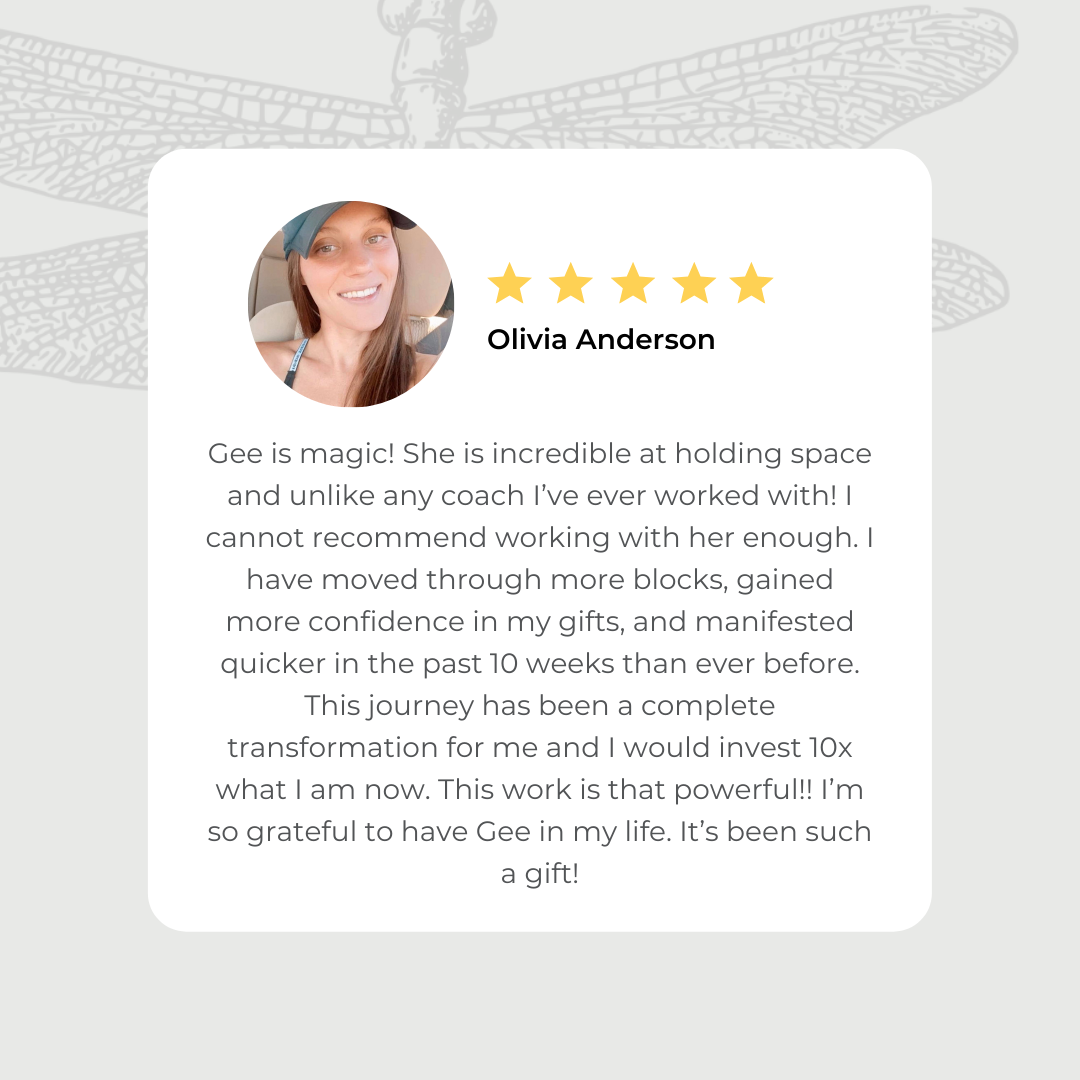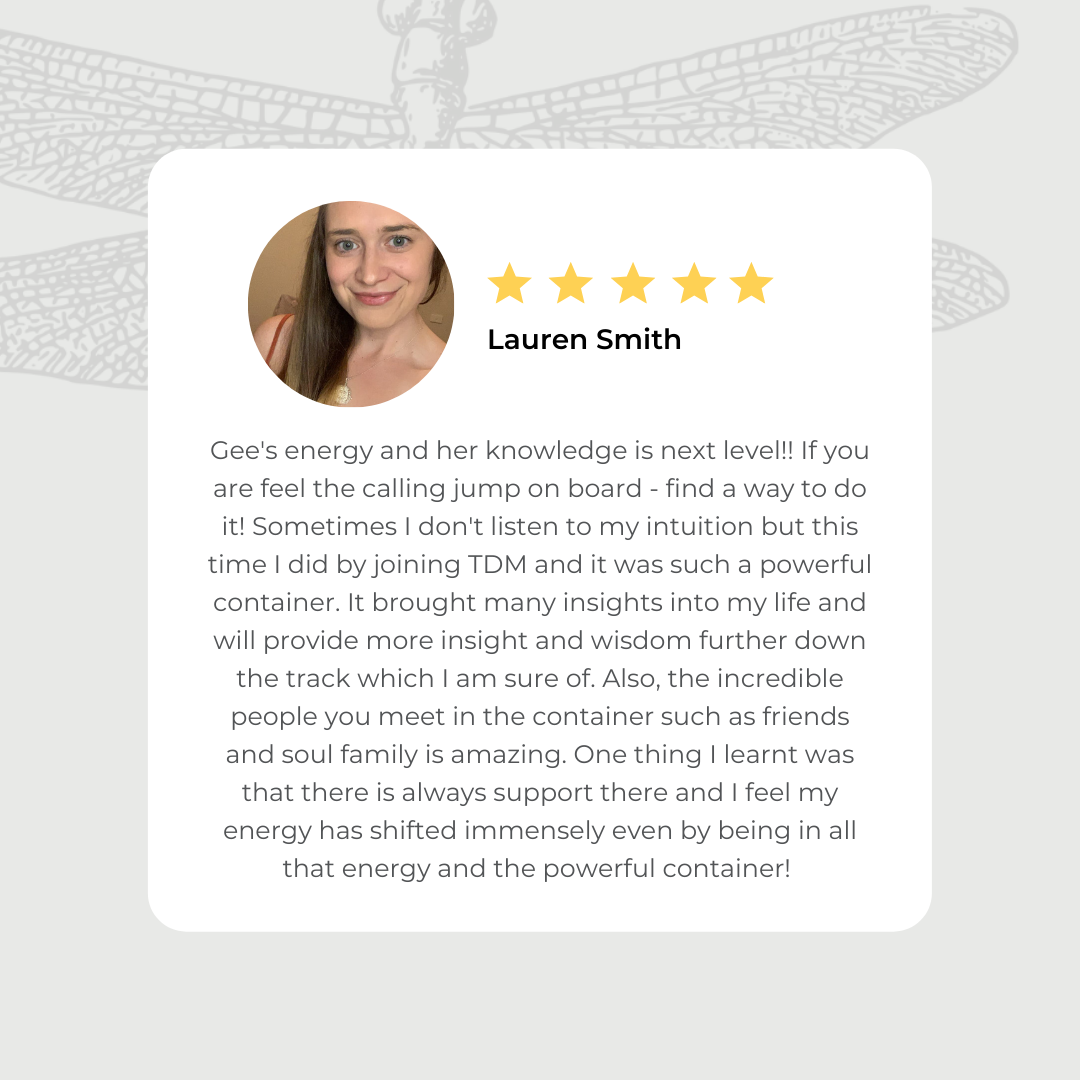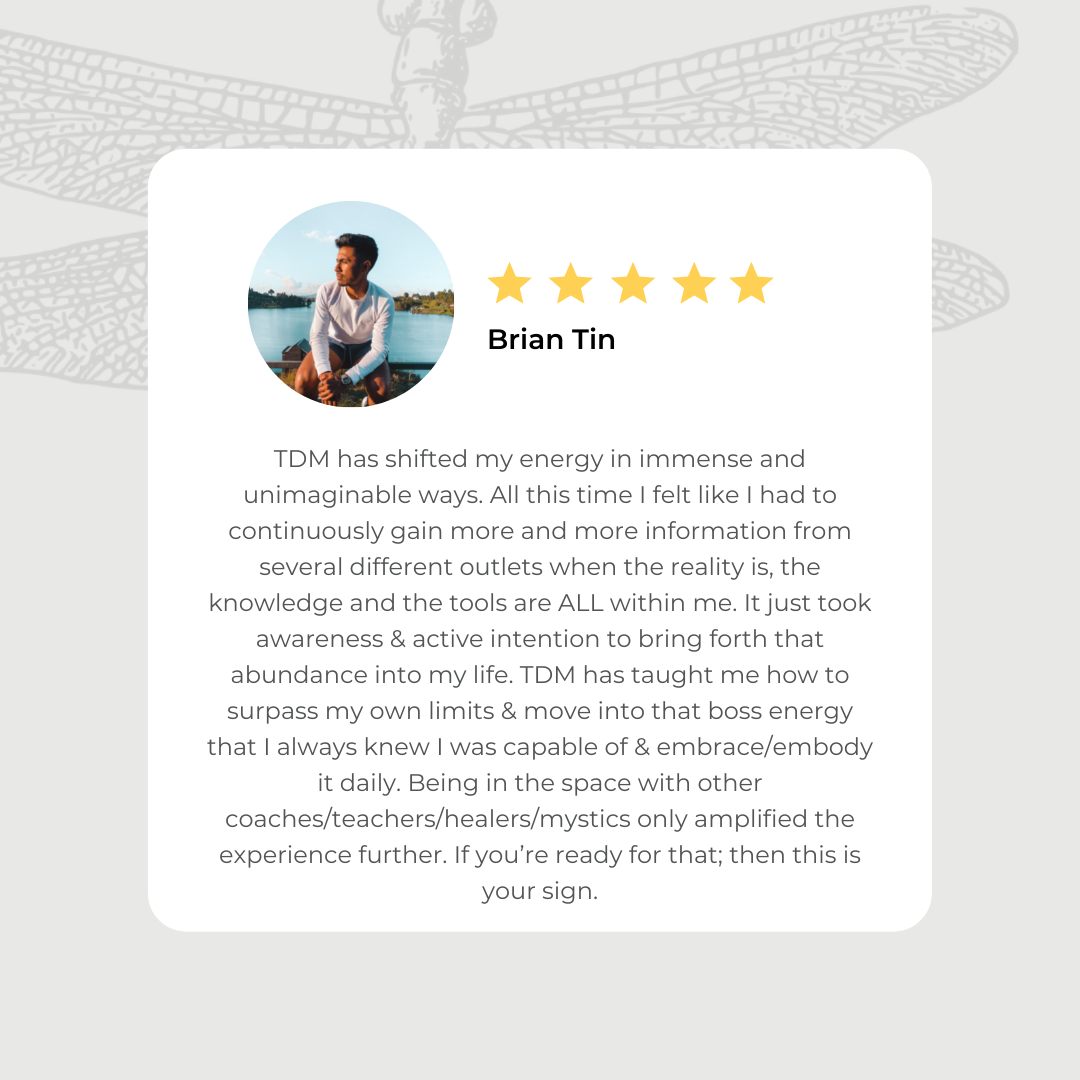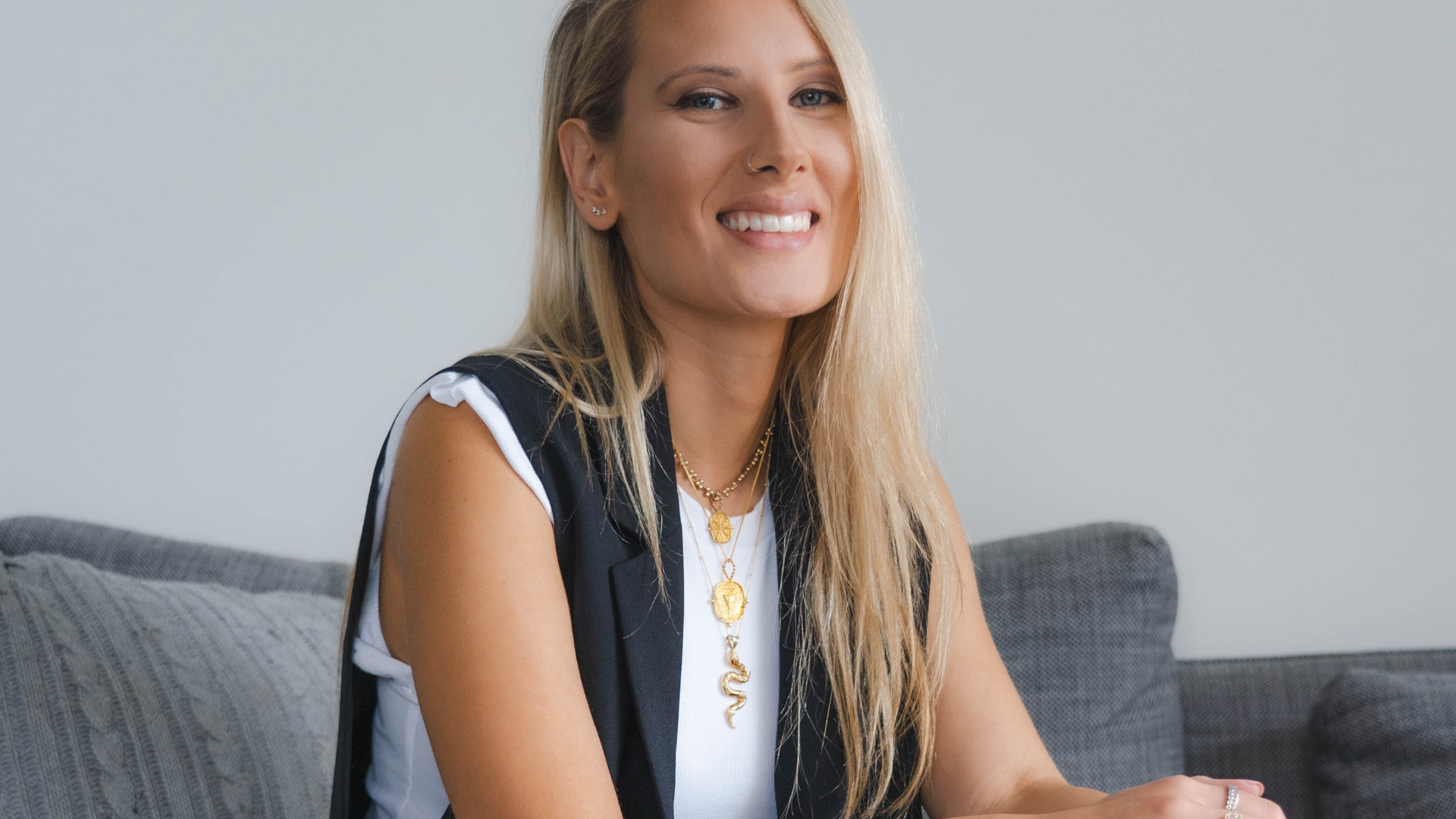 This is an open letter to my clients, because this is what you really want to hear anyway...

I've never really liked long sales pages, they're just filled with marketing tidbits that try to convince you to sign up to said offering. But we don't do that here, I'm not going to convince you that this is for you. You're either called to this experience, or it isn't in alignment right now, either way, I'm on board. I trust that those who are to embark on this journey with me, have been Divinely Guided here. If you're here, chances are you're already familiar with my work and/or you honoured your intuitive guidance to meet me here. So we can skip over the fluff, and I can just share an open letter with you all to welcome you to this world of mastery.

I have been a coach for many years and this year decided to drop the coaching title and honour my title as a Spiritual Teacher full time, but of course that doesn't deny me of the years of coaching that got me here. I decided that this year I was retiring from 1:1 coaching completely from October (I wrote this in 2021)(more about this in The Dragonfly Method), and instead wanted to offer coaching in a group capacity. I'm unconventional in the way I coach, it is not linear, it is not cookie cutter, and it is certainly not only Masculine oriented (we use both Masculine and Feminine energies).

The main focus of The Dragonfly Method is for you to tap into your authentic coaching style. We have all incarnated with innate wisdom that wants to move through us, but many of us repress our wisdom and instead look to traditional systems and tools that we regurgitate to coach and/or teach. For this experience we use Quantum tools to tap into future timelines to foresee the way we will be showing up, and to collapse time and space and meet our future selves now. This shifts the entire collective, because it puts everyone that is ever to be graced by your energy, light years ahead. This is powerful work and requires an energy exchange, you must feel ready to Quantum Shift, you must feel ready to offer the space to commit to this work, you must feel ready to up-level in every area of your life, because it will be a holistic shift; mind, body, spirit.

Together we will restructure your foundation, think of it like building a house, we need to make sure that the slab and framework can hold your magic. We will create packages that will allow you to "express ship" your gifts, and plan all of 2022 for your business. We will also learn about unconventional coaching and how coaching is more fluid than it is dogmatic.

One of the most important elements will be understanding The Quantum Reality, so together we will learn how to navigate the Quantum and shift using higher dimensional planes. We will also embark on a collective Quantum Leap (your life will never be the same), we do this week 2, to energetically prepare you for the rest of the container. You must operate from this space before you can continue.

One of my signature processes that has changed my entire life is my Vision Casting process. I've shared this method with thousands of people and it works 100% of the time when crafted correctly. Consider this "buying the supplies anticipating the build of the house".

This container is about balancing both the Divine Masculine energy and Divine Feminine energy within us, letting it bleed into everything that is birthed through us. Together we will go within (breath work, gratitude, grounding - creating sacred ritual), we will go with (understanding how to nourish the vessel to operate to its fullest capacity; it's not what you think, and shift through the seasons with self offering no judgement), we will go with space (letting go, releasing, making space for new seasons), we will go with reflection (learning how to reflect effectively and self-correct if required), and we will go with self (how to be intimate with self and balance the Feminine and Masculine within and without).

That was just the preliminary work, now it's time to get to the Flow State through the energy centres (the Chakras), this part I cannot reveal too much here, but prepare for a complete overhaul of your belief system. We will be activating all your portals.

Would it be a coaching container without connecting to wealth consciousness and money?! Understand what money really is and how it is so much easier to tap into wealth consciousness than you have previously perceived. In this call we will step into future versions of self and collapse time and space.

We work in both the physical and ethereal, so we will also look to the stars for wisdom in navigating business. Using Astrology and Human Design to navigate business. This will include how to use it for making investments/trades, and when to enter business agreements and when to avoid them.

Finally, my favourite part of the experience, we will go on a journey of Reality Transurfing. I will simplify it so that it can be applied to every facet of your life. Your entire reality will shift, new paradigm.

I have created this container as a means for us to grow together. We are one, and together we can amplify our collective and personal intentions. This container will go incredibly deep into your mind, body and soul, so if you aren't ready for this level of work, this may not be the experience for you. I am incredibly honoured and excited to bring this to life in 2021 and hold space for you in this way. Holding space is an art form and I'm in a place in my career right now where I have the capacity to invest the energy required in this way.

My intention for this program is not as important as the way you receive the program. And that's why my focus is on creating a safe, sacred space for you to release, transcend, grow and realise. Together we RELEASE what is no longer serving, what we have carried as heaviness, we TRANSCEND any walls and limiting beliefs, realising that the blocks we face were self-imposed and a byproduct of our misguided thoughts (while simultaneously honouring how that contrast gifted us expansion and forgiving ourselves for suppressing the shadows that would set us free), we GROW into the people we already are, using energy and vibration to co-create and change the atmosphere (with a sprinkle of Quantum Healing) and then we REALISE that everything already has a vibrational frequency, and we aren't creating more of what isn't, but rather expanding what already is (using the Laws of the Universe).

Working with me isn't about changing who you are, or changing your environment, it's about shifting our perspectives so that our perception of what already is mirrors that of our Highest Selves. Remembering that any discord we feel is only there because we are out of alignment with ourselves. But also recognising that the discord offers us an opportunity to self-reflect and reframe. The discord teaches us, and we are not to offer it any judgement, but instead gratitude for the opportunity to expand.

And I don't play the fear marketing game - you don't need me, but with me, we can move through this faster - that's all. And if you've read this far, this is answering YOUR call. With my whole heart, I want you to realise the love that you are.

This experience is a moving prayer that we create together, using practical 3D steps, but also super woo woo Spiritual work, marrying the two worlds like a beautiful work of art. You already know intuitively if this is for you.

I love you.

- Gee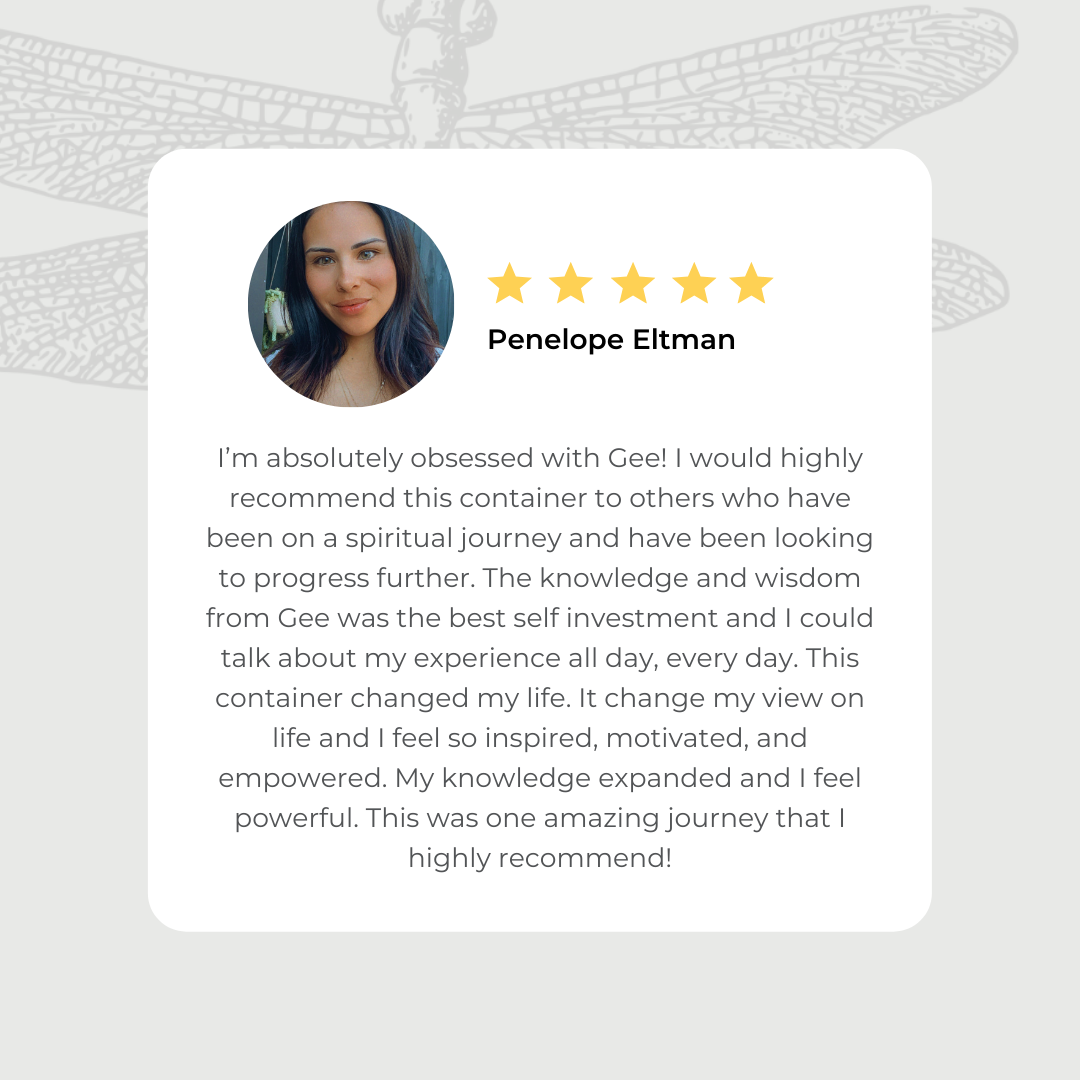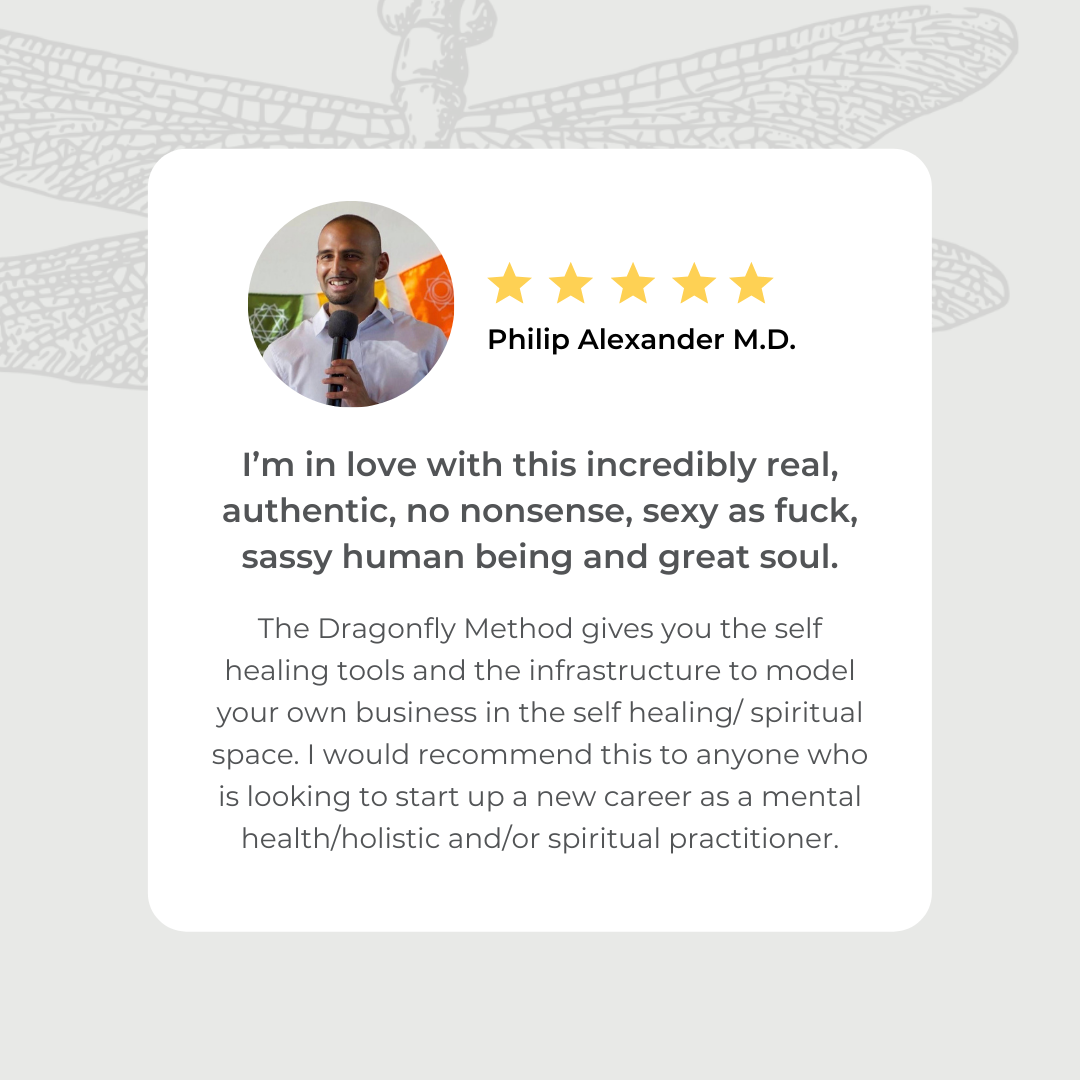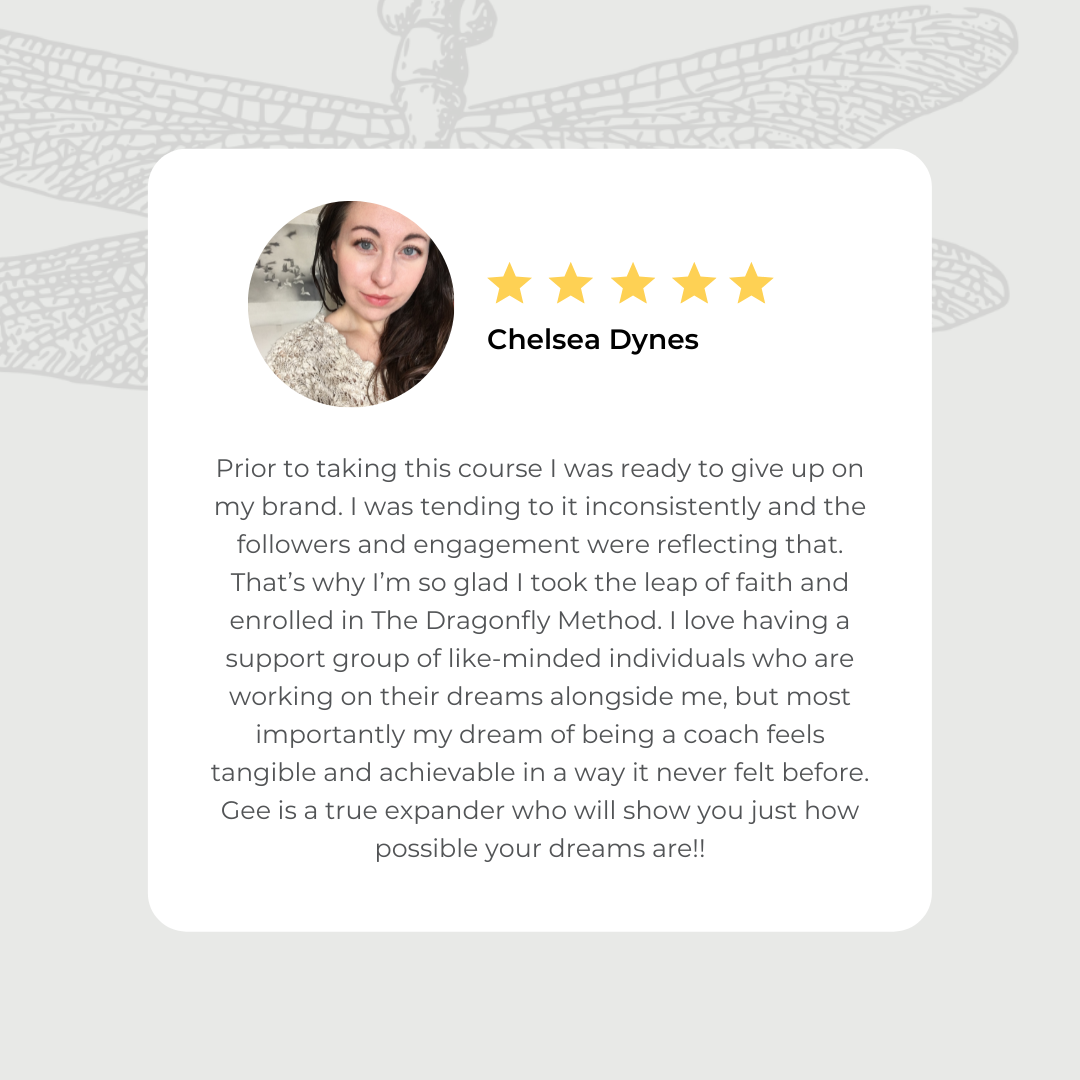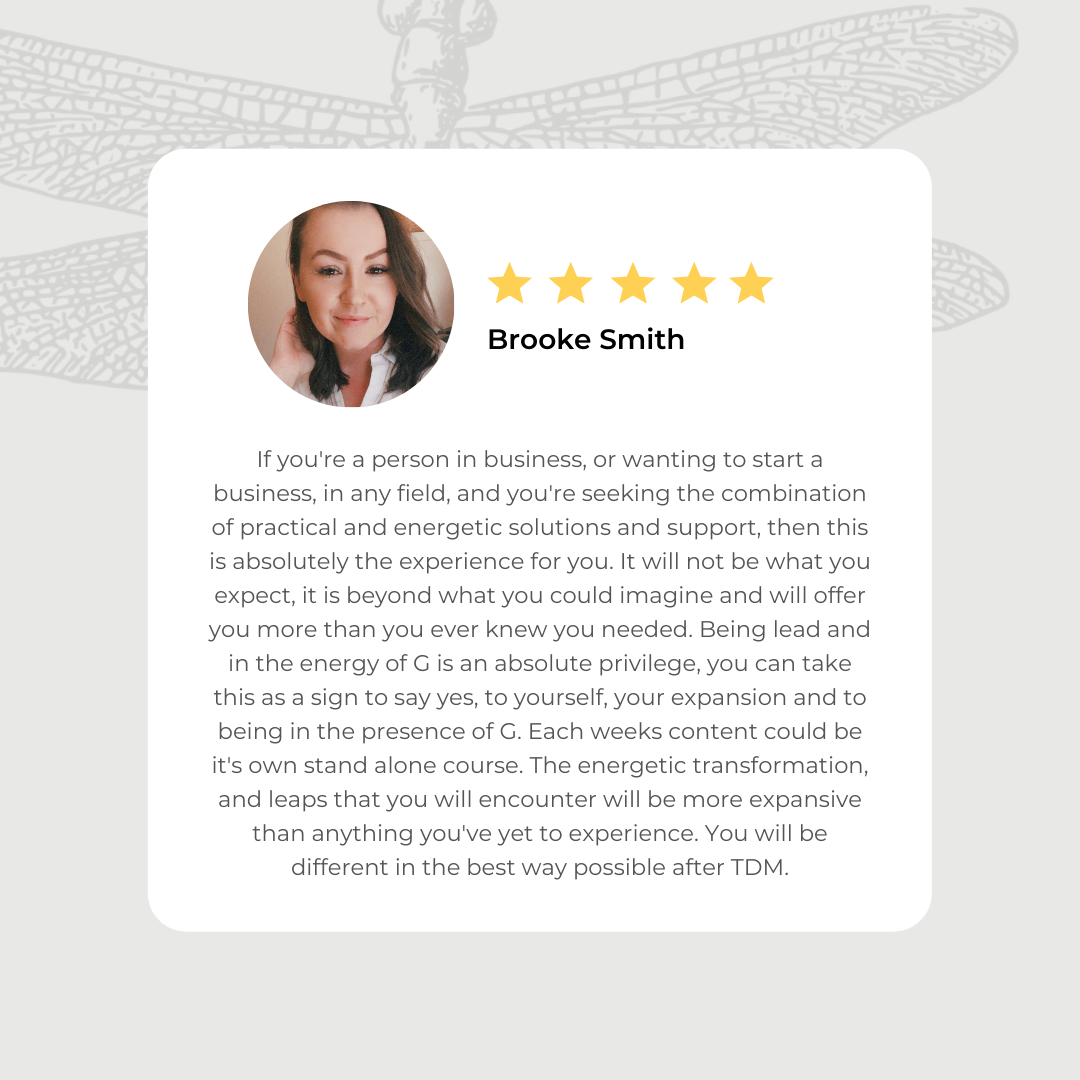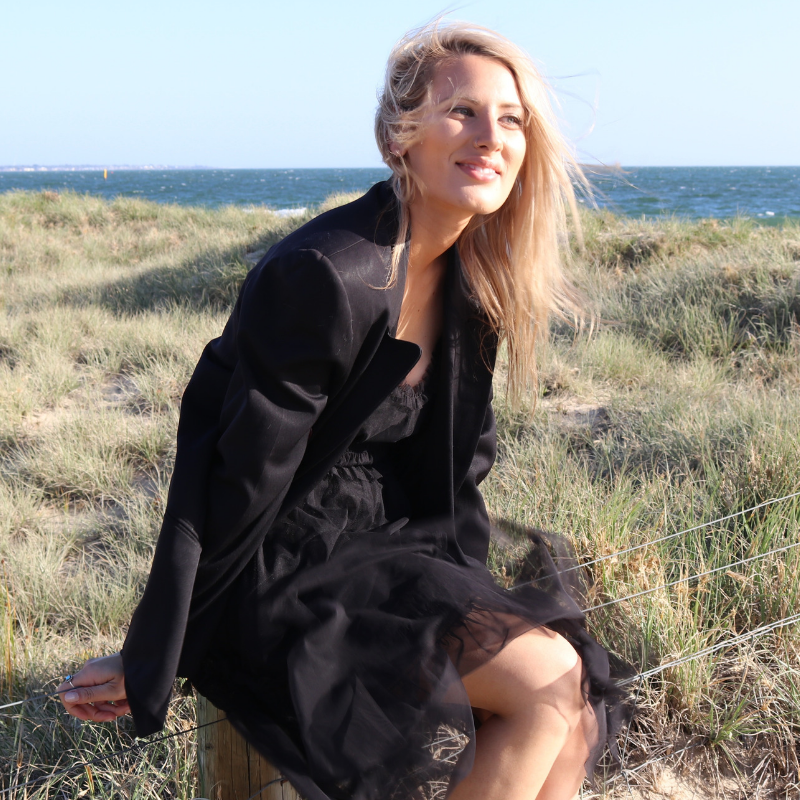 MEET GRIGORIA
GRIGORIA KRITSOTELIS
SPIRITUAL TEACHER

My goal in life is to be one of those people who are just light. You see them and you suddenly feel so warm inside, and all you want to do is hug them. And they look at you and smile with the warmest light in their eyes... and you love them. Not in a romantic way, but you just want to be close to them and you hope some of their light transfers onto you.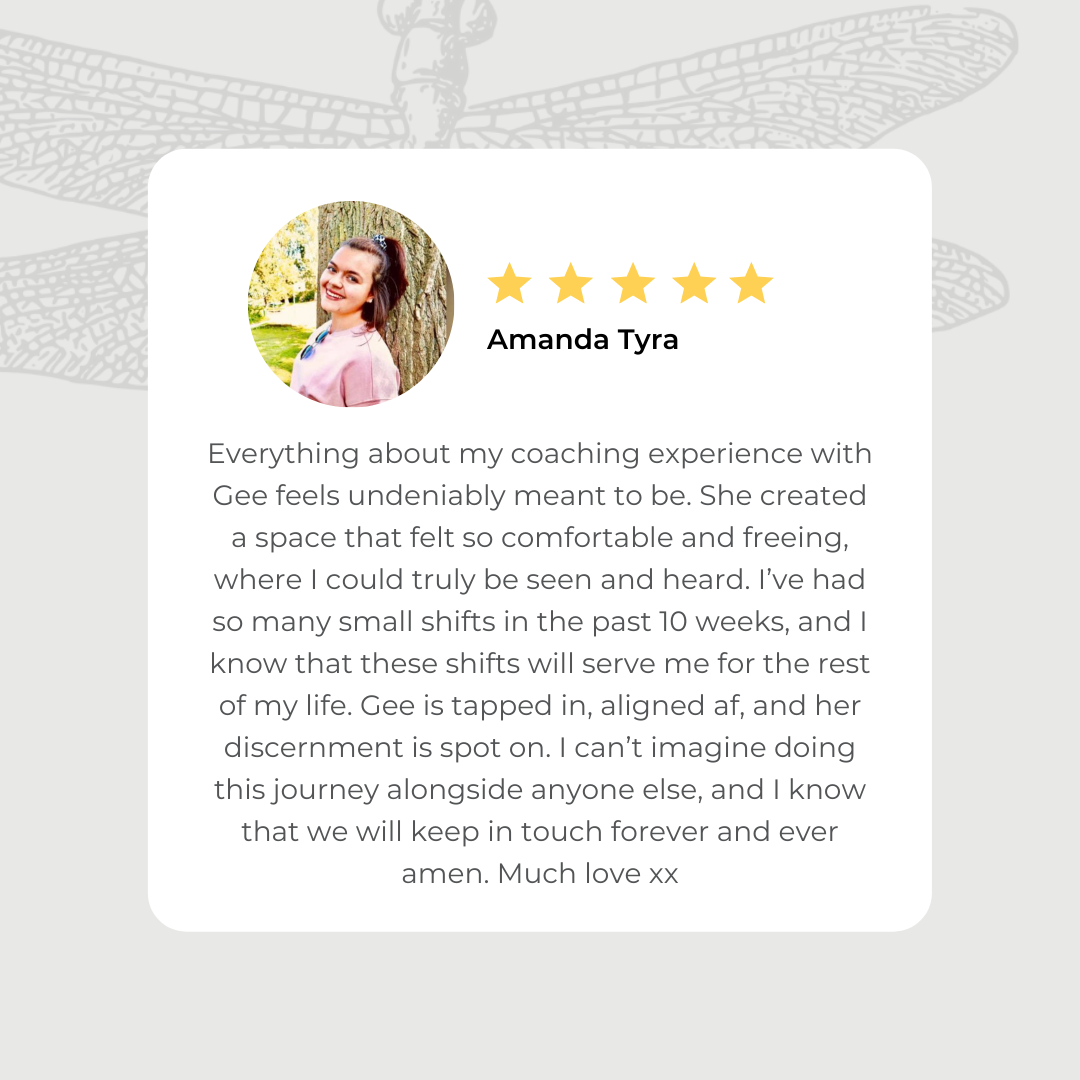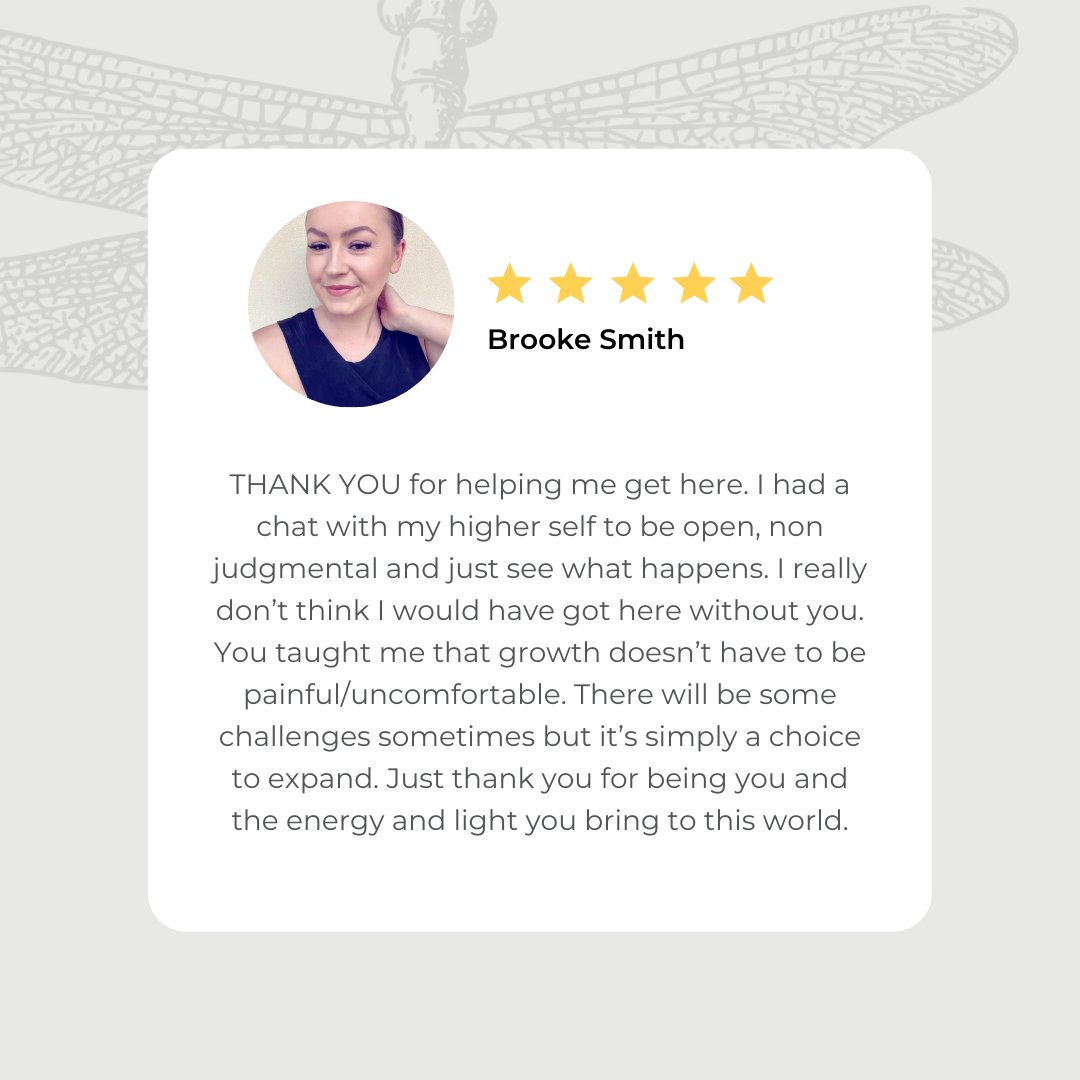 THIS 11 WEEK CONTAINER STARTS JULY 2023

11 x Weekly 2 hour Group Calls (replays available)
This is a Certification and Initiation Program and a Certification will be awarded upon completion.

This material is a guided activation into authentic magnetism, mastery and manifestation.

The content includes:
Coaching Certification (The High Frequency Method of Coaching - beyond the outdated methods)
Creating Packages & Programs (FREE Access to Project Course Creation included)
How to hold space for clients and your people
The Quantum Reality
Collective Quantum Leap
Vision Casting (my signature process)
Understanding the Energy Body (Within, With, With Space, With Reflection, With Self)
(This will include a clean optimal vessel, breath work, earth medicine, shifting through the seasons, releasing, reflections, intimacy, sex magic, balancing the Divine Feminine and Divine Masculine)
*NEW JUST ADDED* Nervous System Regulation
Flow State through the energy centres (working through the science behind each of the Chakras and how to use this knowledge effectively)
Wealth Consciousness and Money (and releasing all limiting beliefs)
Using Astrology and Human Design to understand how to show up in business
Reality Transurfing (Part 1 & Part 2)


This container is both channeled work and practical work, to offer a balance between the Divine Masculine and Divine Feminine energies of business.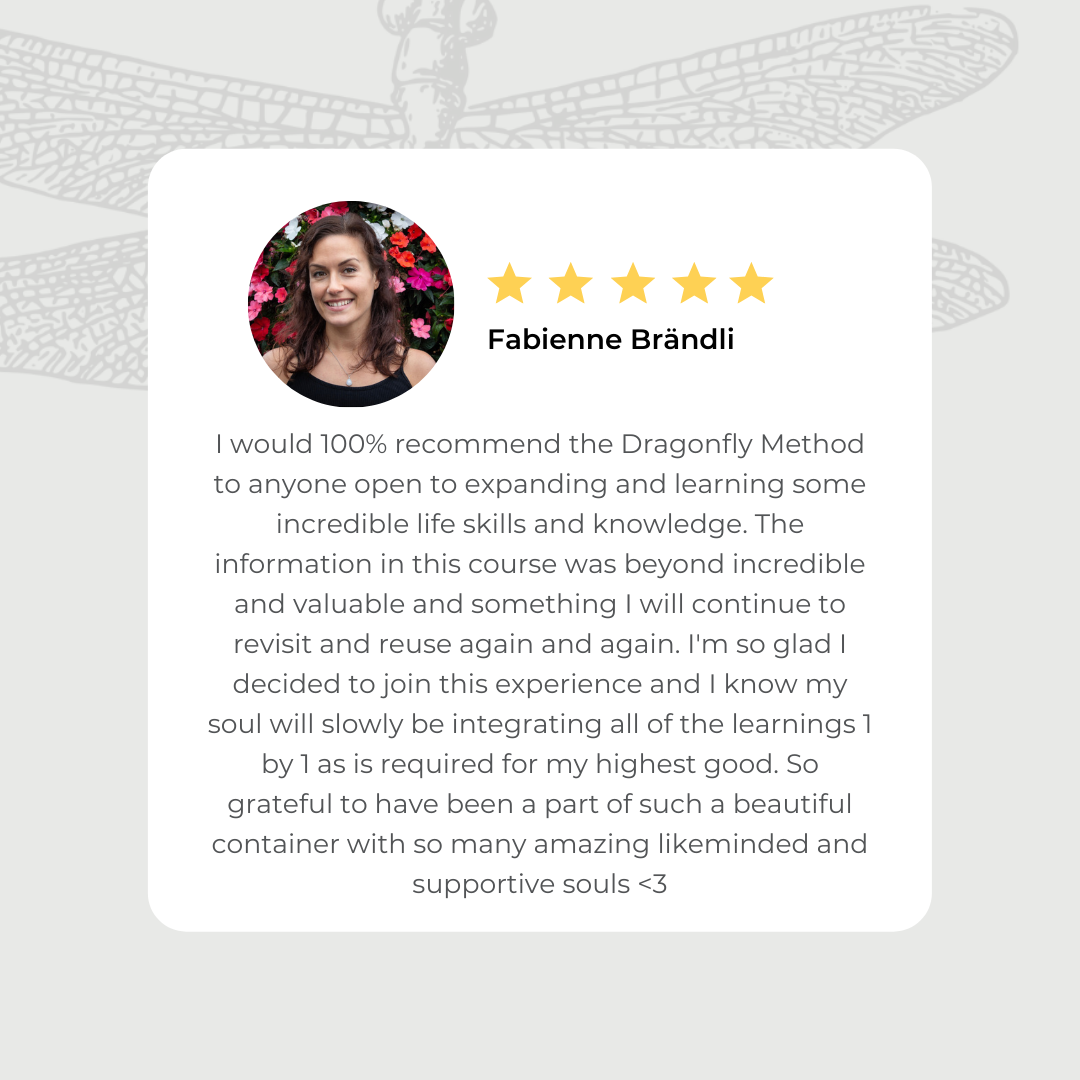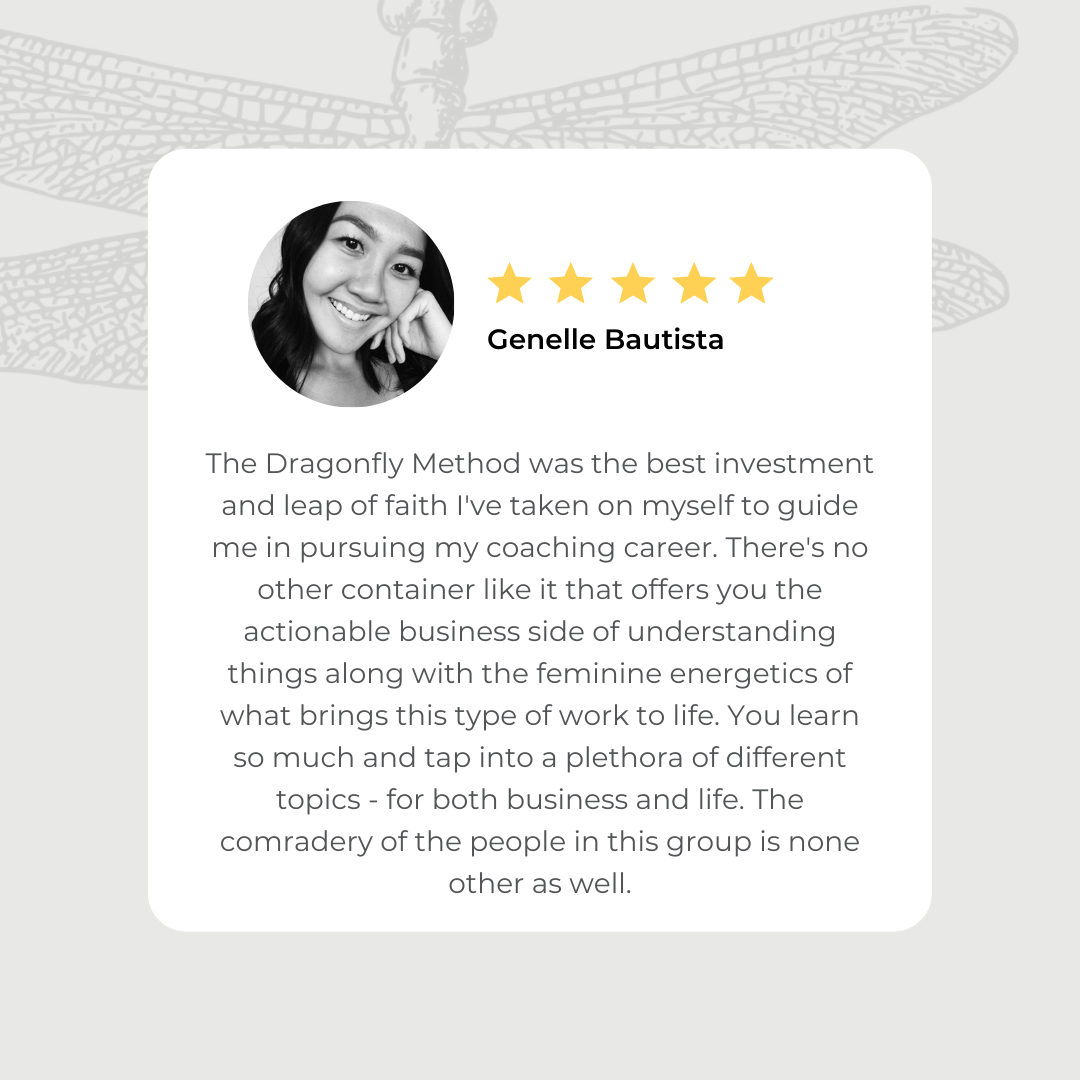 CALL SCHEDULE
Call One: Wednesday 12 July 2023 | 12pm AEST
[Call Time Conversions: 10pm EDT Tuesday 11 / 7pm PDT Tuesday 11 / 3am BST Wednesday 12]
Bonus Call: Monday 17 July 2023 | 12pm AEST
[Call Time Conversions: 10pm EDT Sunday 16 / 7pm PDT Sunday 16 / 3am BST Monday 17]
Call Two: Wednesday 26 July 2023 | 12pm AEST
[Call Time Conversions: 10pm EDT Tuesday 25 / 7pm PDT Tuesday 25 / 3am BST Wednesday 26]
Call Three: Wednesday 2 August 2023 | 12pm AEST
[Call Time Conversions: 10pm EDT Tuesday 1 / 7pm PDT Tuesday 1 / 3am BST Wednesday 2]
Call Five: Sunday 6 August 2023 | 7am AEST (Guest Speaker - so call order change)
[Call Time Conversions: 5pm EDT Saturday 5 / 2pm PDT Saturday 5 / 10pm London Saturday 5]
Call Four: Wednesday 9 August 2023 | 12pm AEST
[Call Time Conversions: 10pm EDT Tuesday 8 / 7pm PDT Tuesday 8 / 3am BST Wednesday 9]
Call Six: Wednesday 16 August 2023 | 12pm AEST
[Call Time Conversions: 10pm EDT Tuesday 15 / 7pm PDT Tuesday 15 / 3am BST Wednesday 16]
Call Eight: Sunday 27 August 2023 | 7am AEST (Guest Speakers - so call order change)
[Call Time Conversions: 5pm EDT Saturday 26 / 2pm PDT Saturday 26 / 10pm London Saturday 26]
Call Seven: Wednesday 30 August 2023 | 12pm AEST
[Call Time Conversions: 10pm EDT Tuesday 29 / 7pm PDT Tuesday 29 / 3am BST Wednesday 30]
Call Nine: Wednesday 6 September 2023 | 12pm AEST
[Call Time Conversions: 10pm EDT Tuesday 5 / 7pm PDT Tuesday 5 / 3am BST Wednesday 6]
Call Ten: Wednesday 13 September 2023 | 12pm AEST
[Call Time Conversions: 10pm EDT Tuesday 12 / 7pm PDT Tuesday 12 / 3am BST Wednesday 13]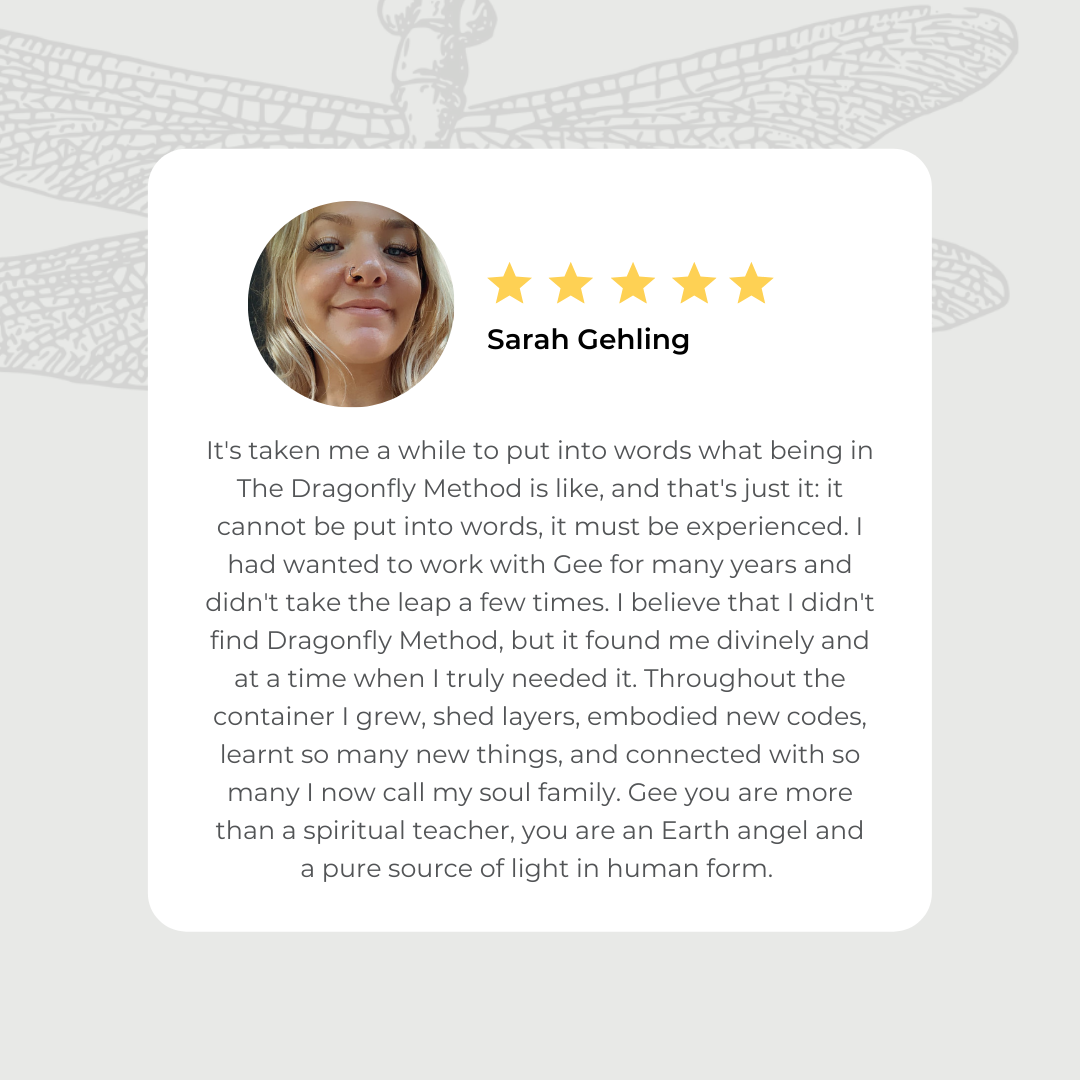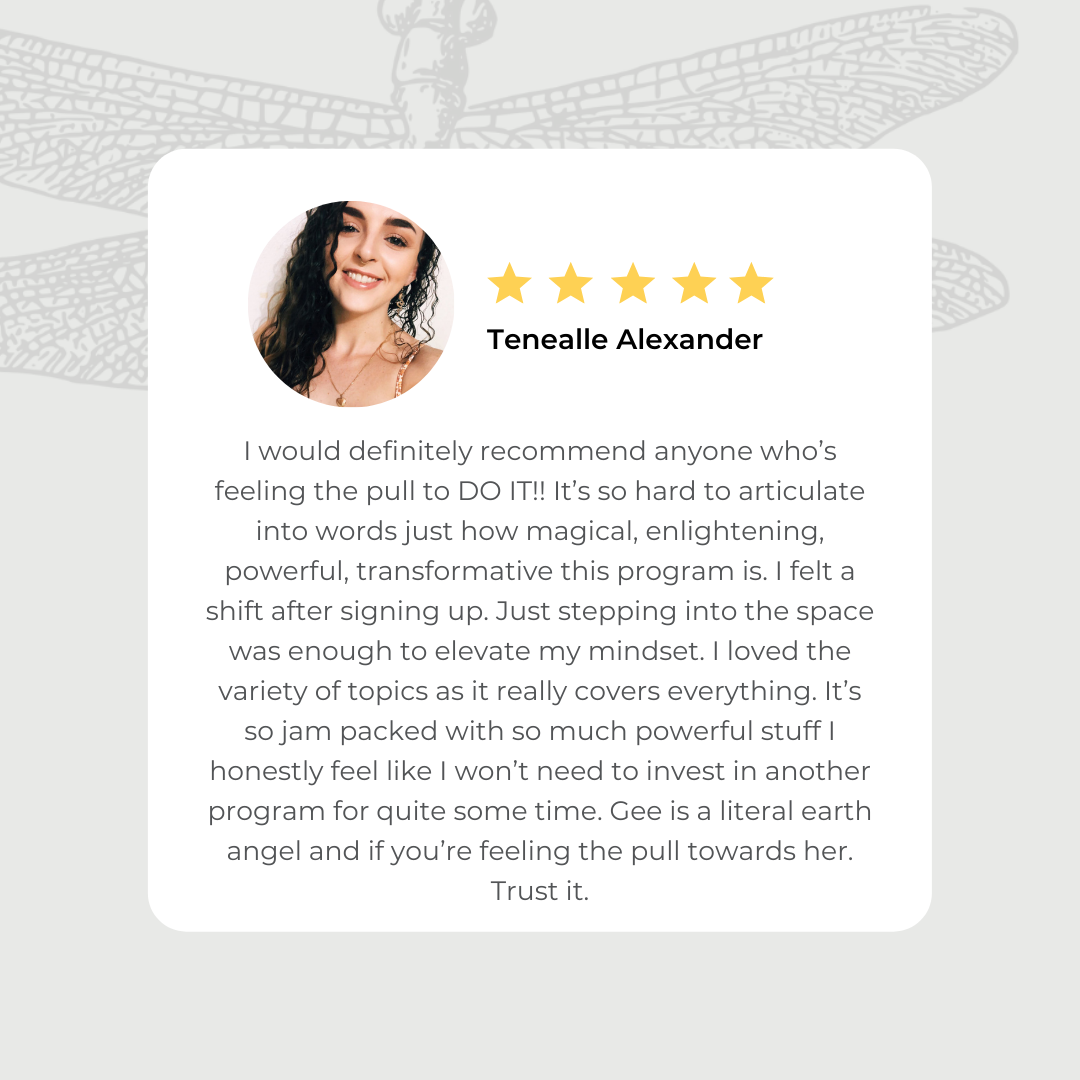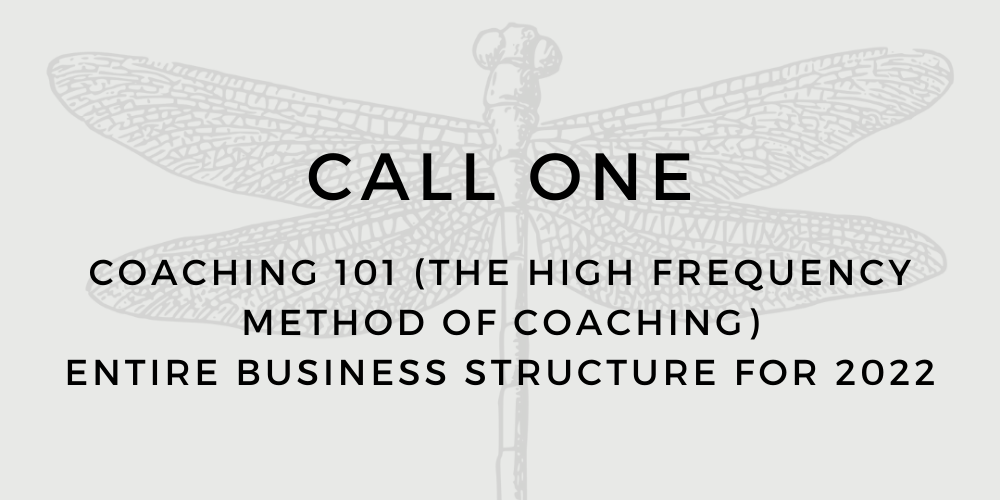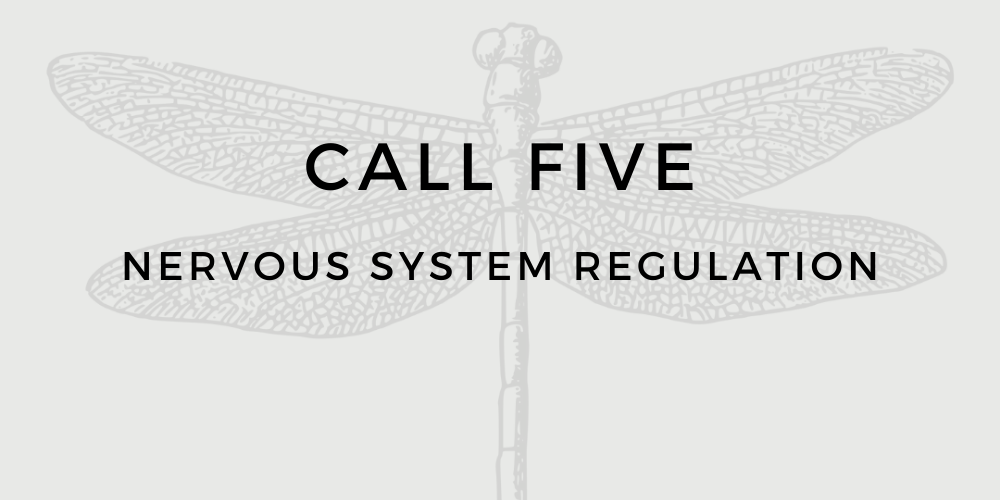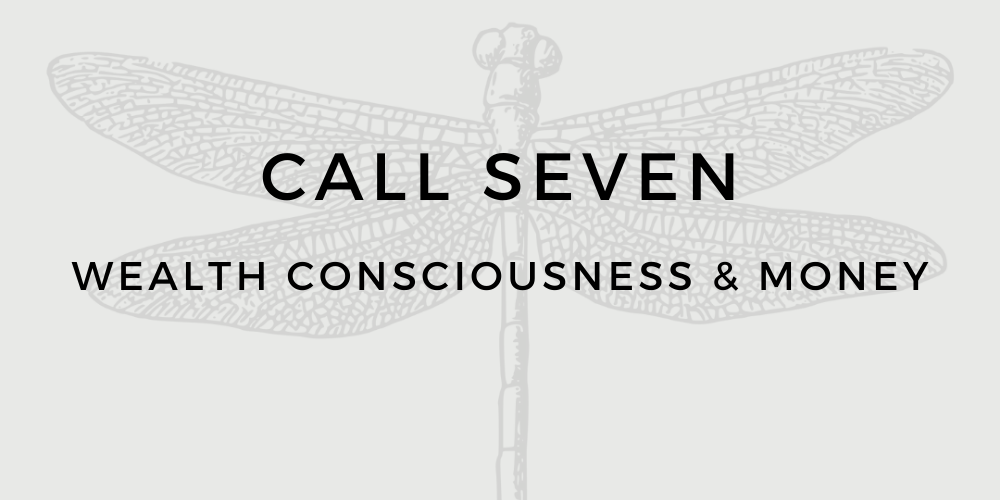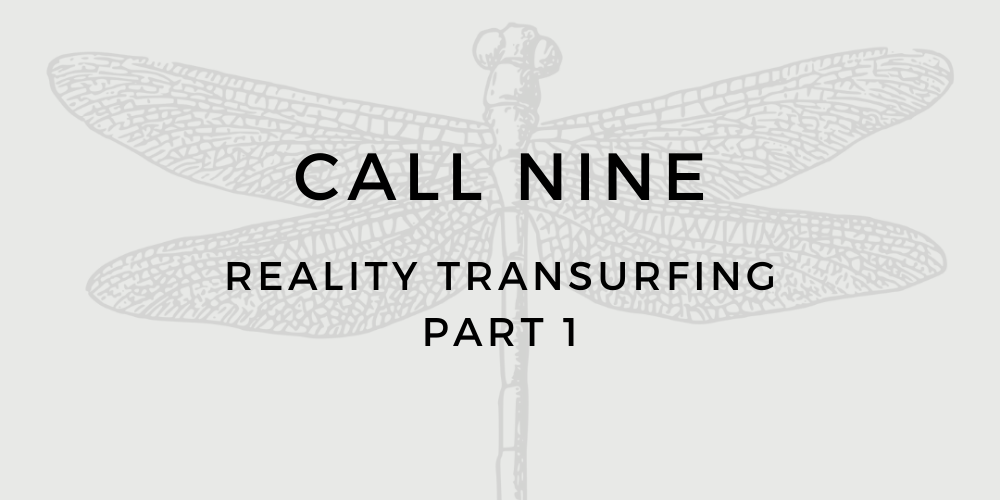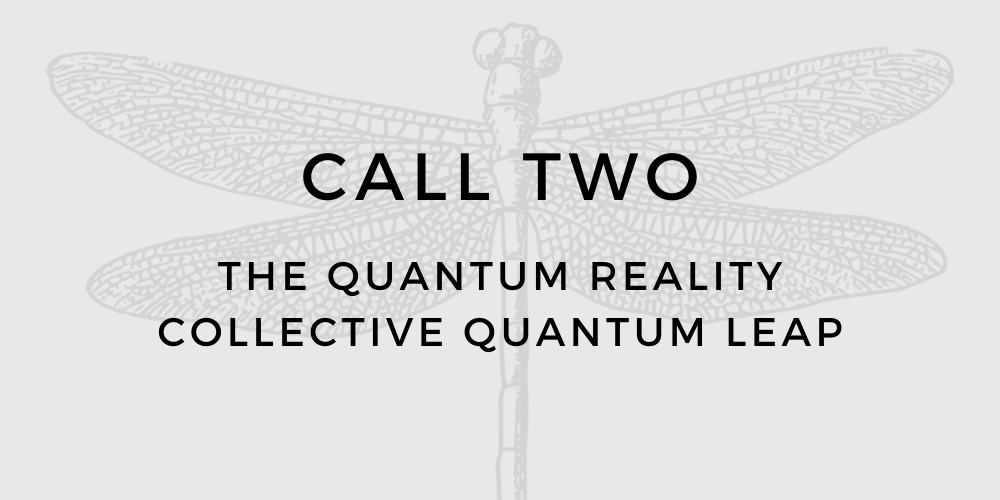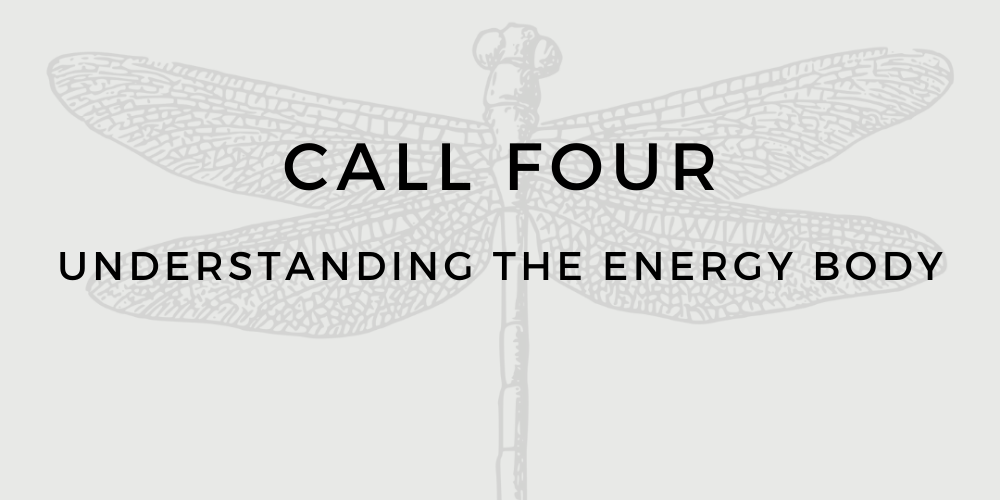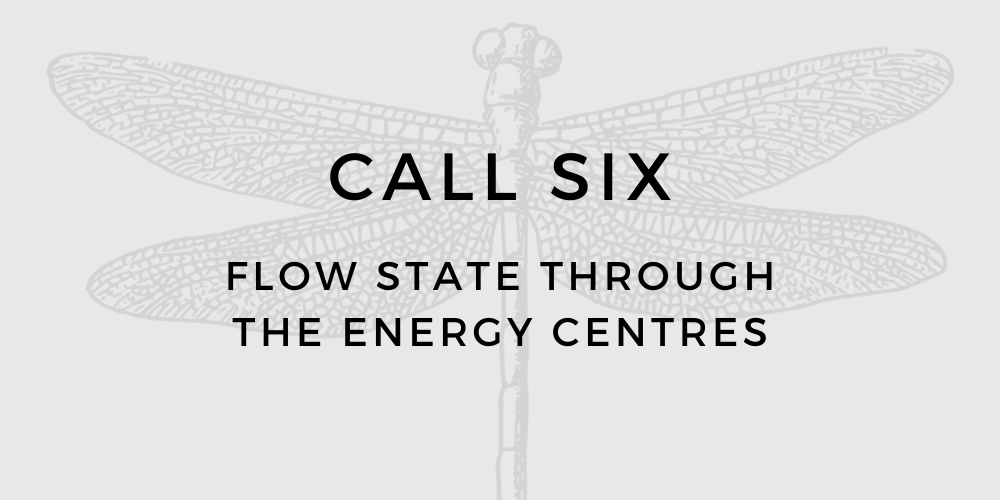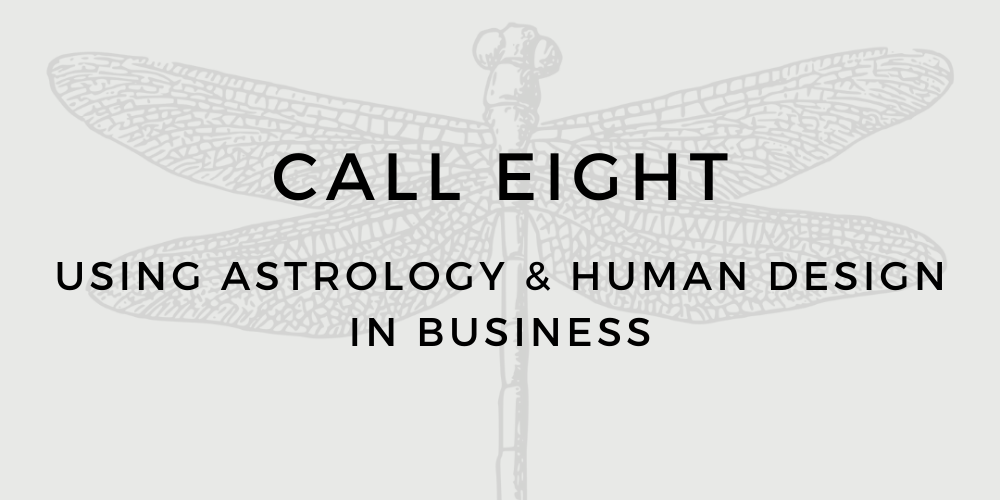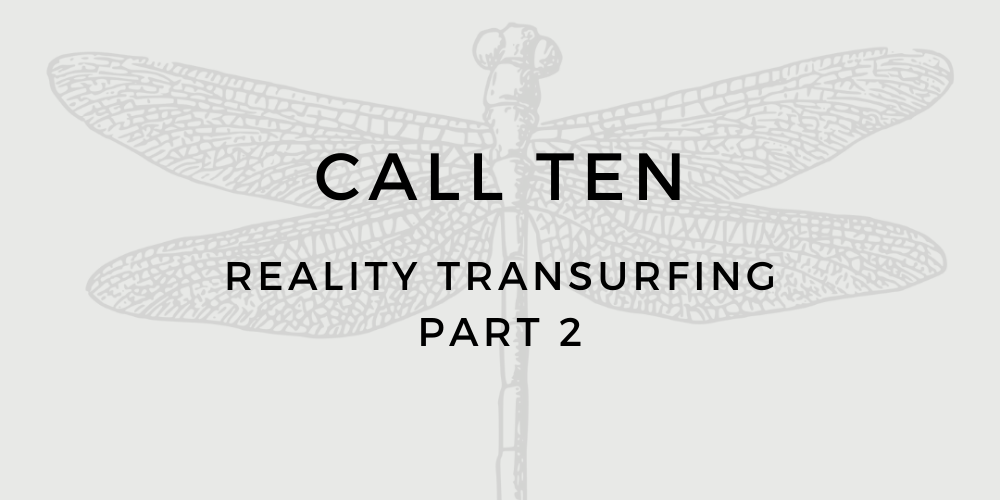 AND THERE'S A BONUS CALL ON
COACHING CURRICULUM!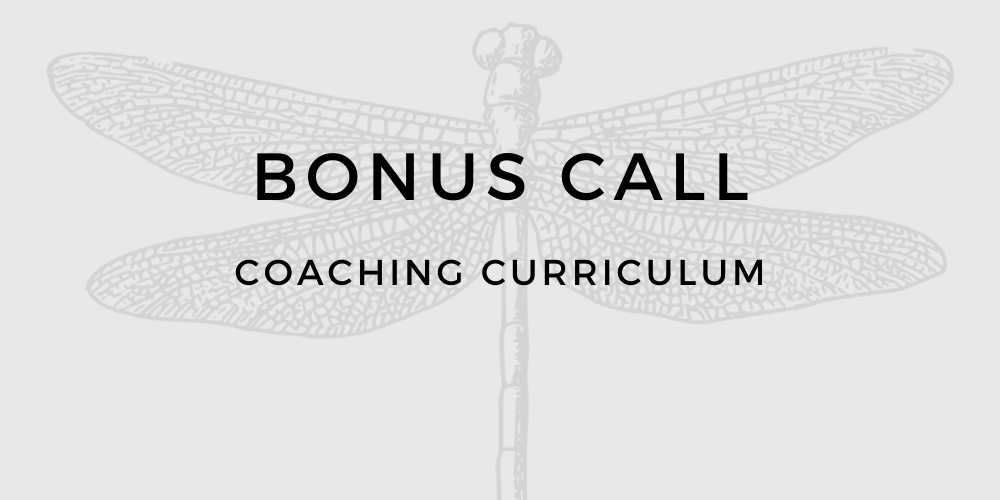 THIS WILL BE SCHEDULED BETWEEN CALL ONE AND CALL TWO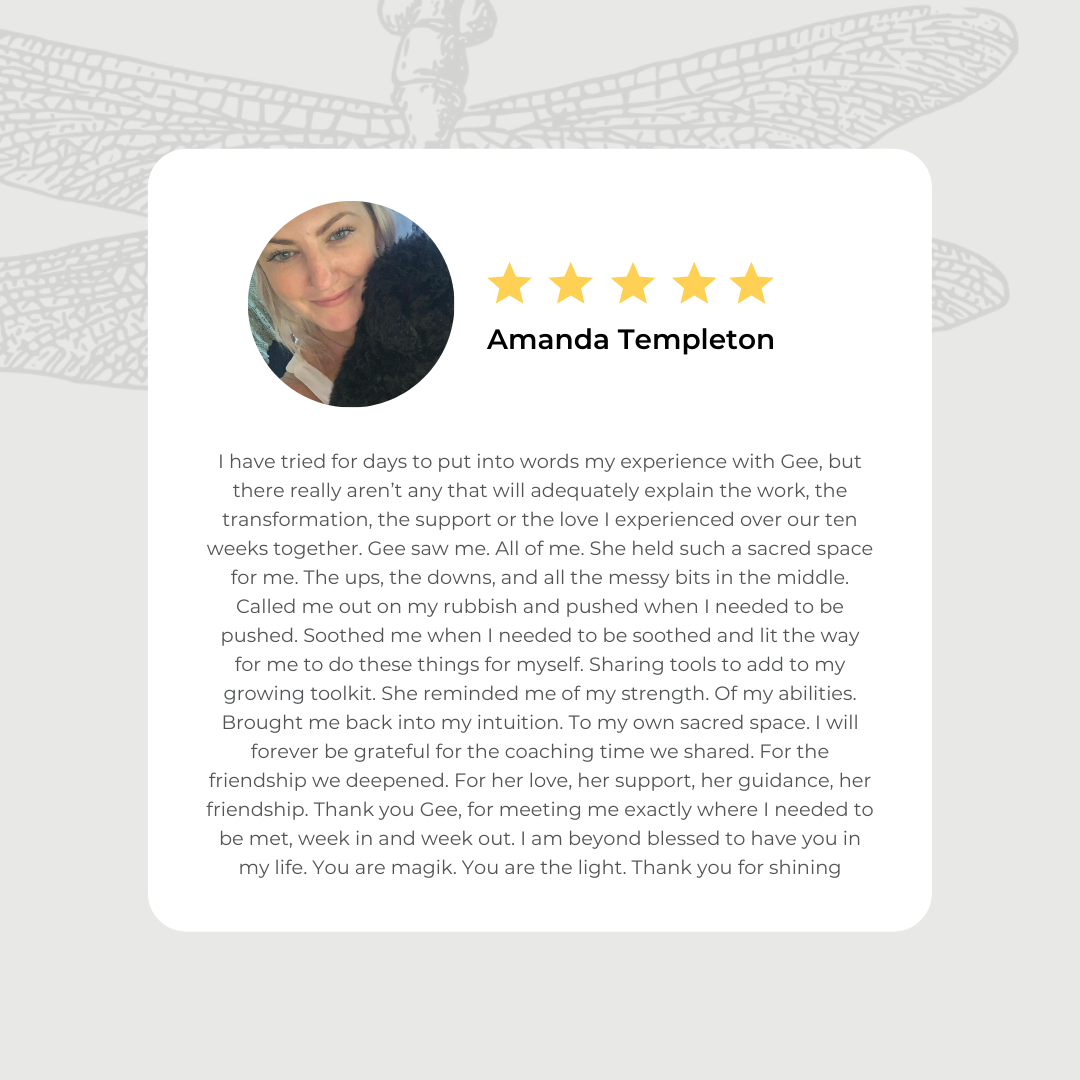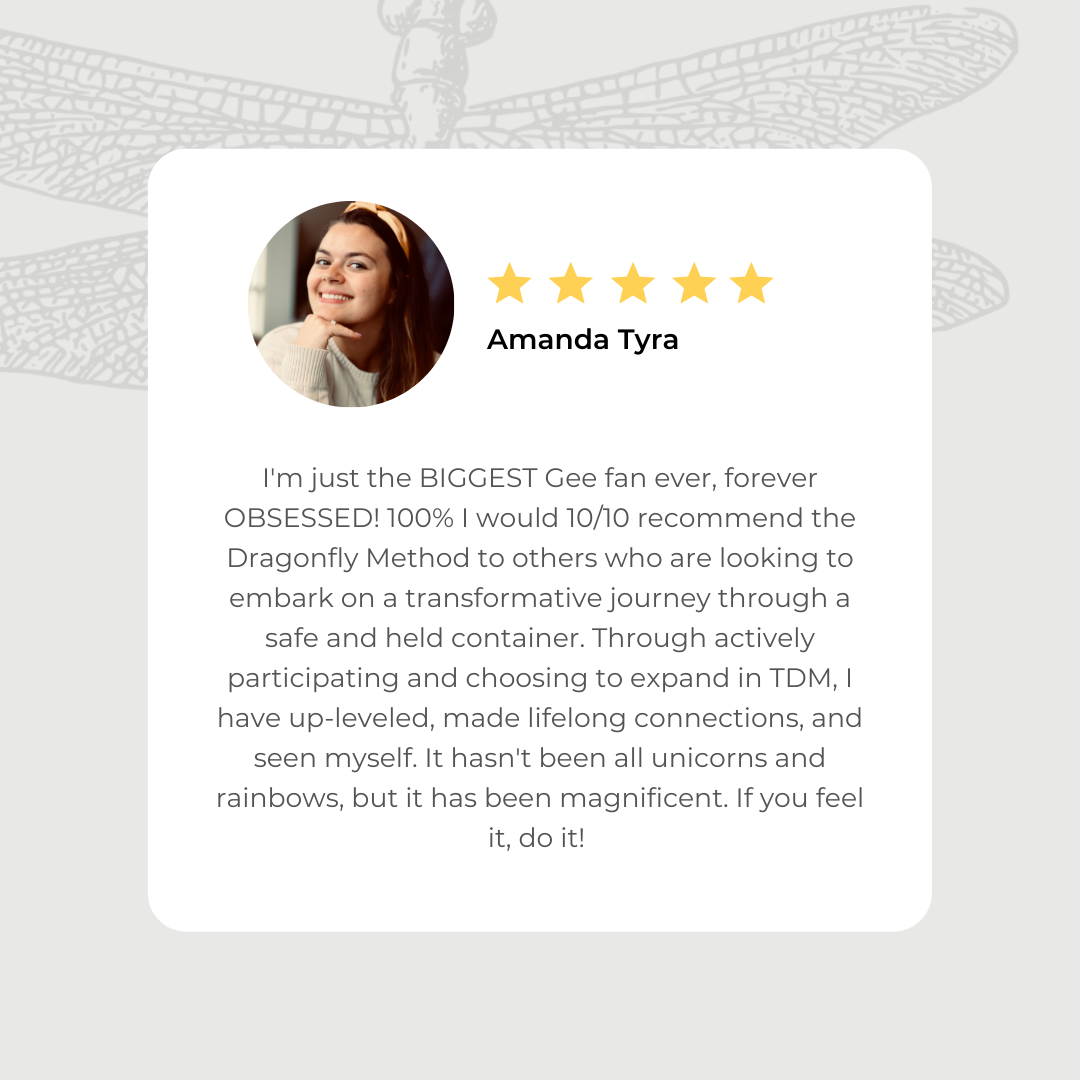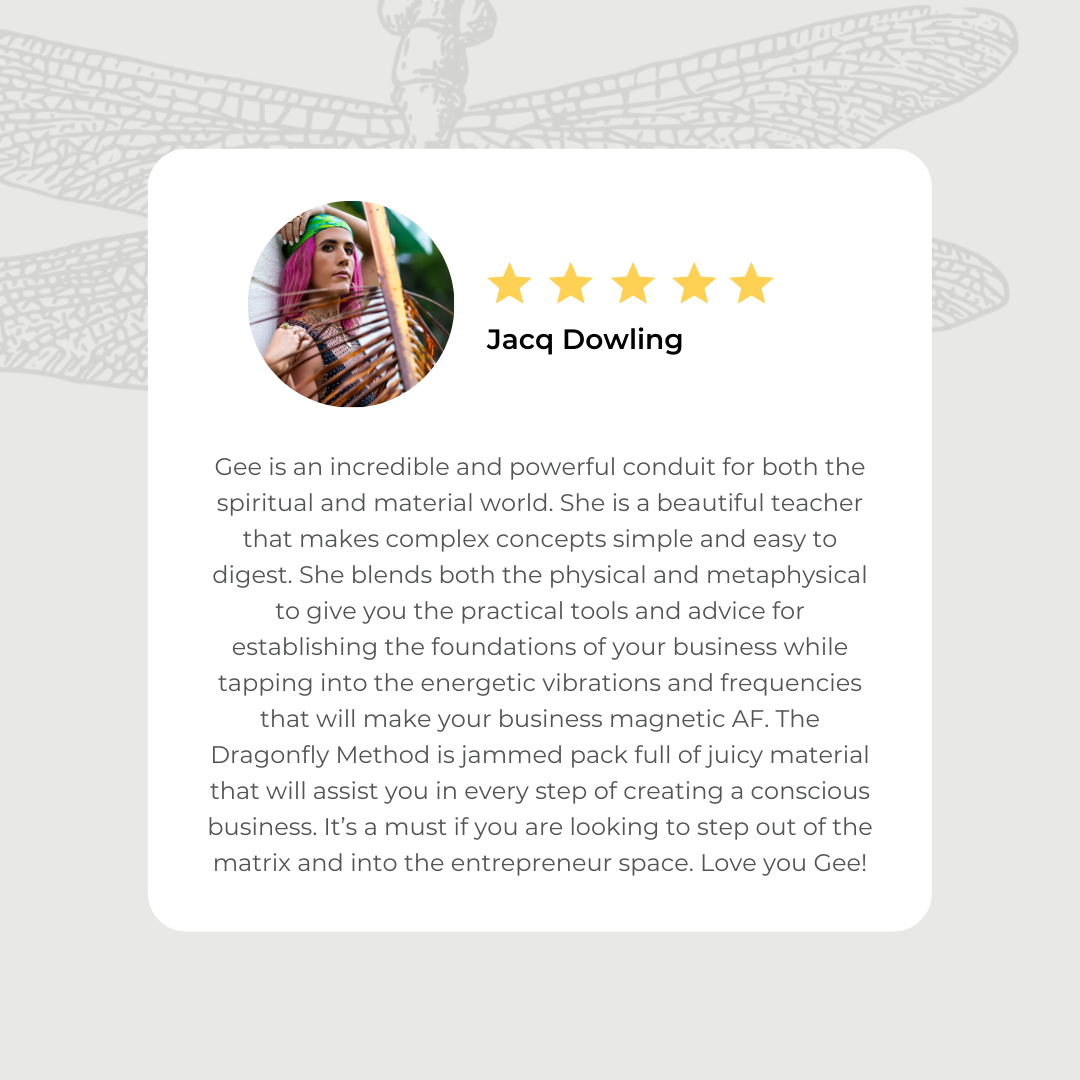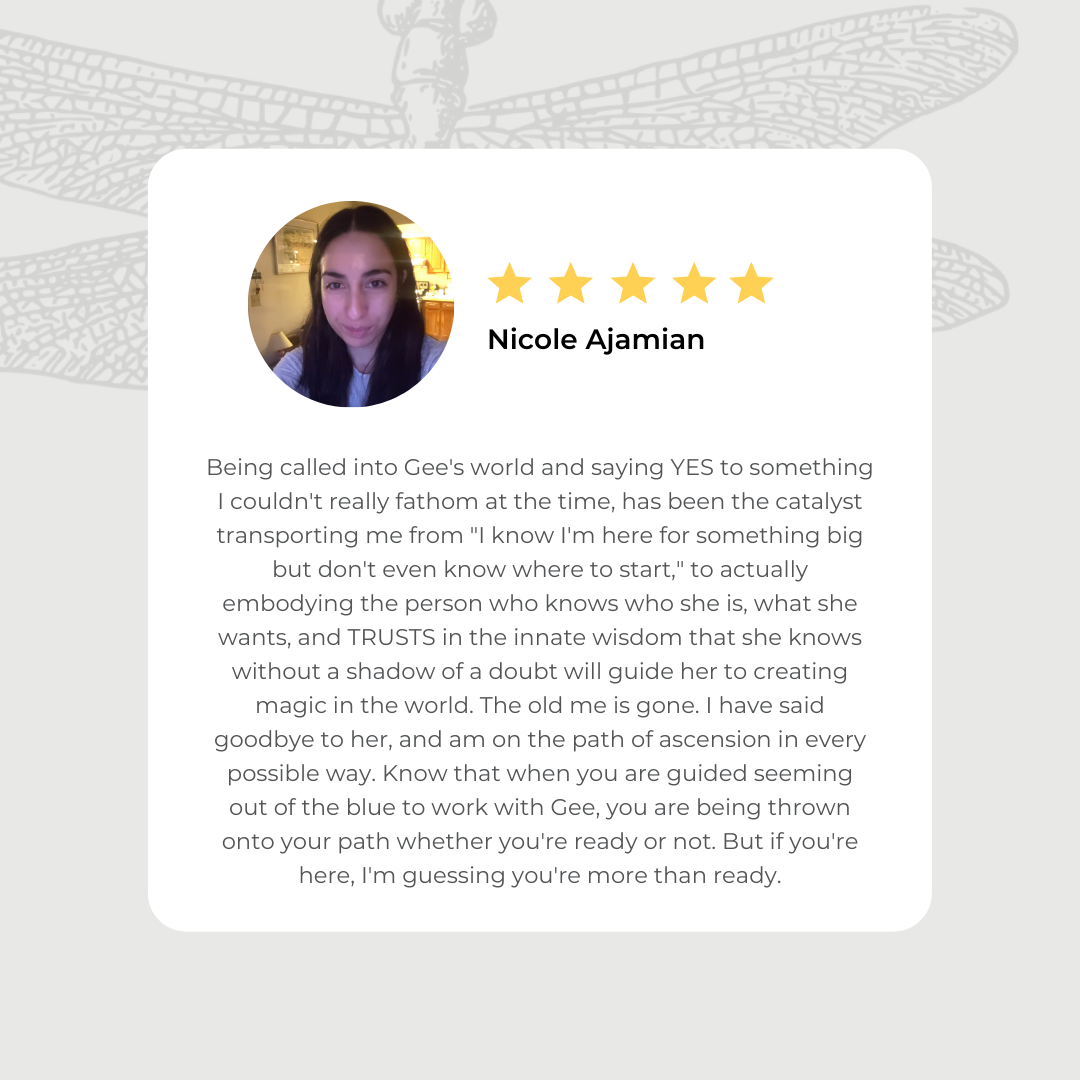 THE DRAGONFLY METHOD INVESTMENT
$5000 AUD
Payment plan OPTION ONE: $2500 AUD per month for 2 months is available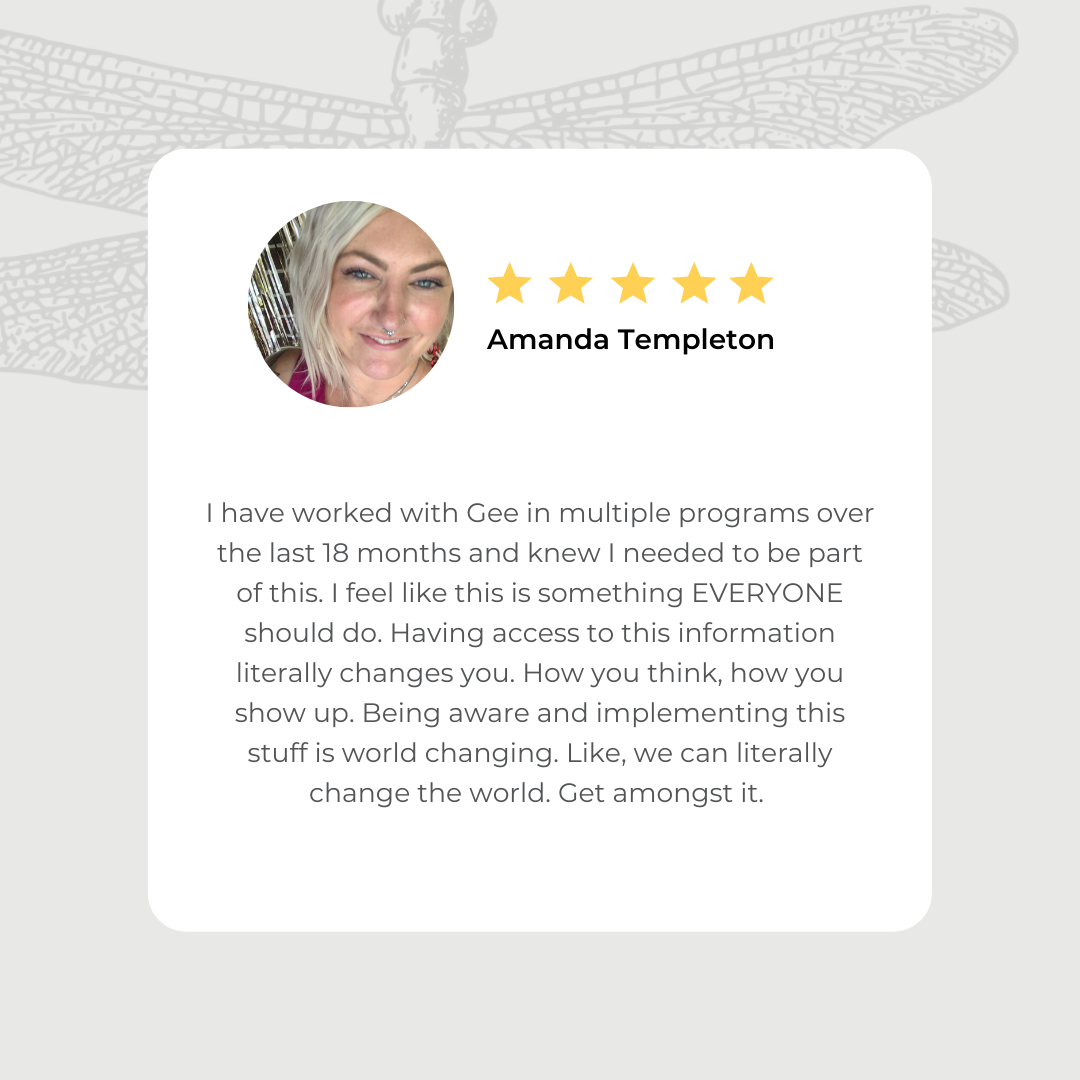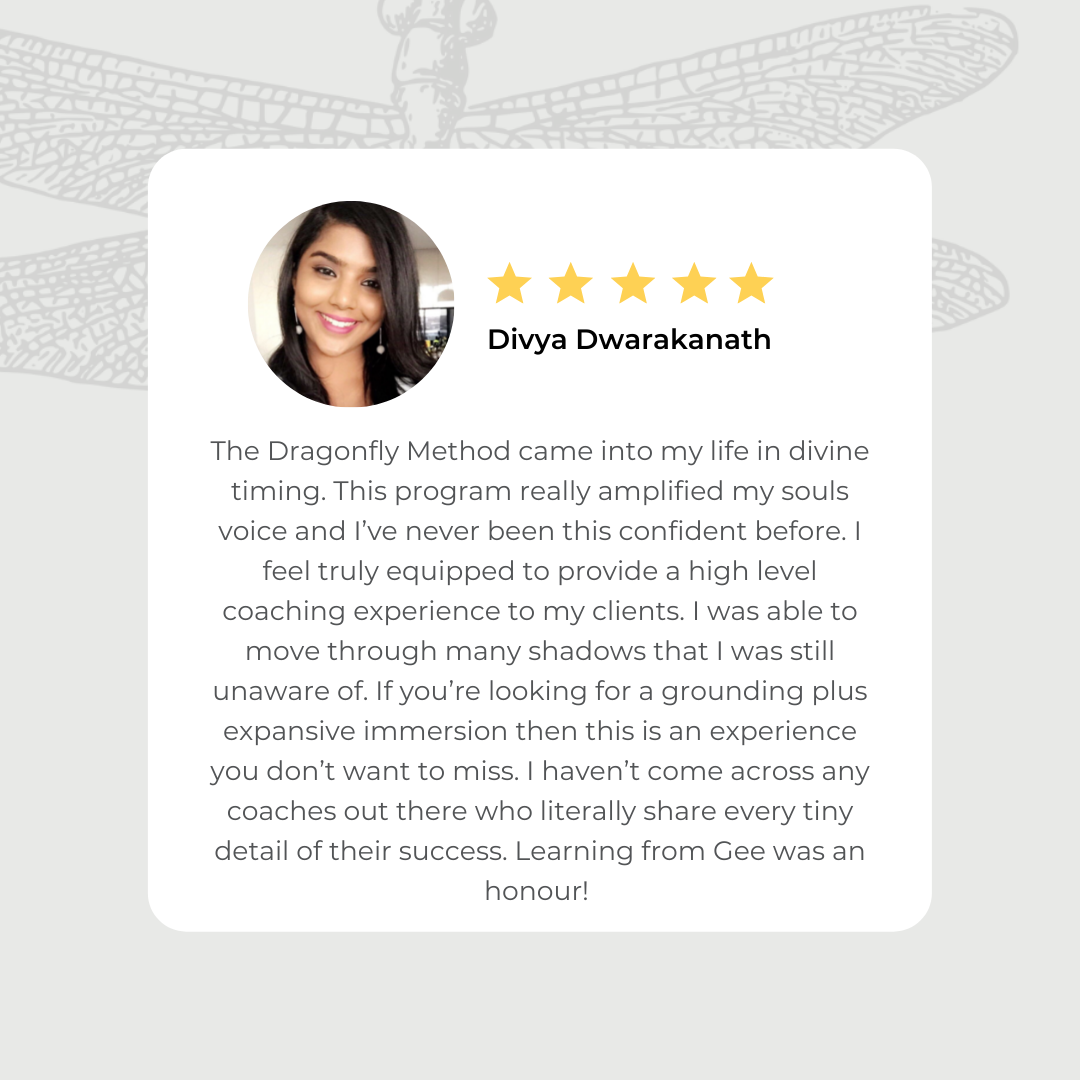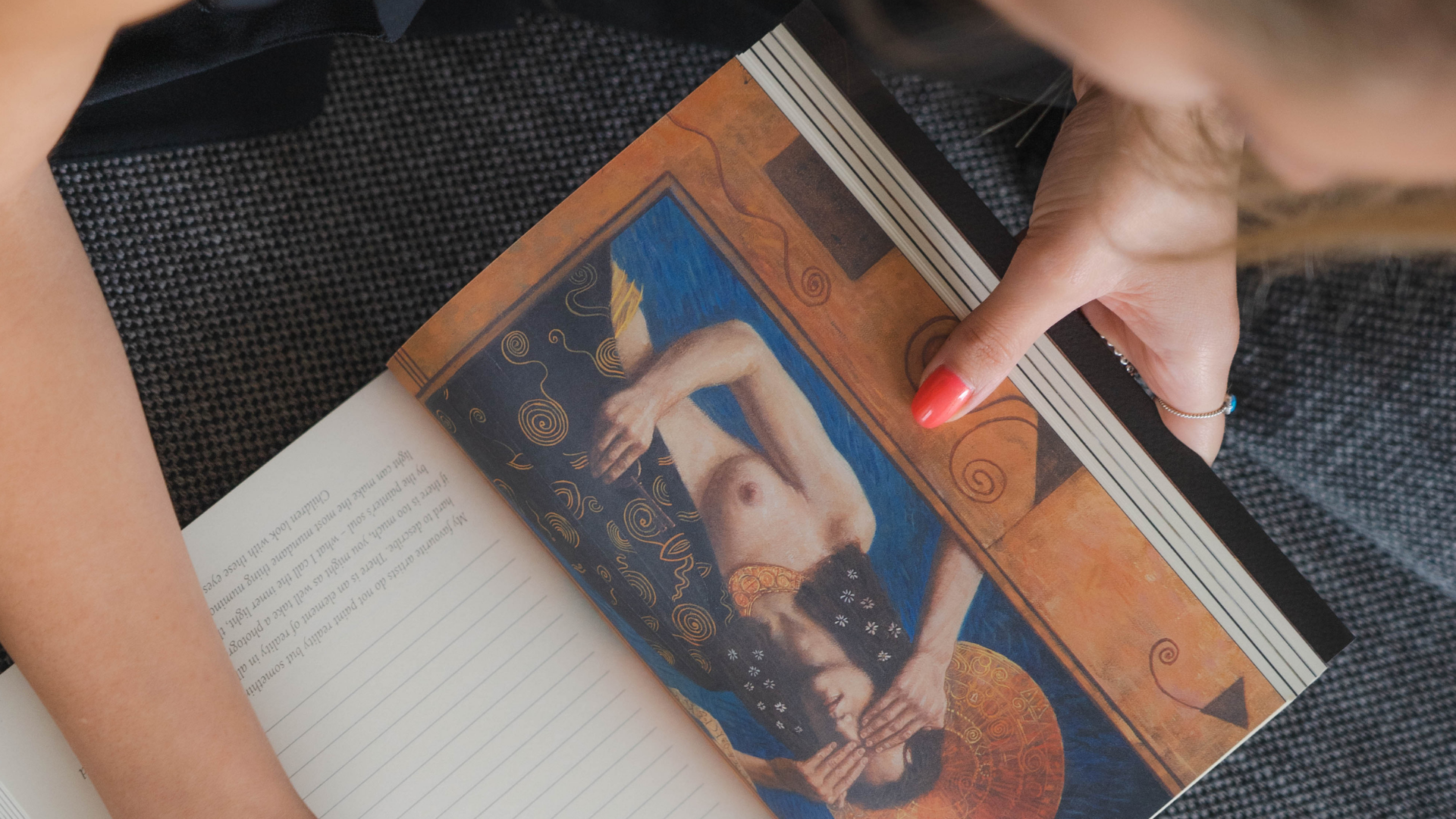 "Thank you for being a part of my life. It does get really lonely and sometimes discouraging when people around you don't really get what we do and even sometimes put us down. Your energy always gives me that extra push I need. I've been going through a lot lately but to be honest your presence, posts, energy and prayers helped tremendously. Thank you sweetie one more time and keep throwing glitter and love around for it always places a smile on my face and inspires me more than you could imagine."
-
"You are such a light. I love your posts. They brighten my day. Thank you for being you and sharing your heart/love."
"You are so awesome G, and I am grateful to have you in my life. Straight up. Many nights God spoke right to you and you would share something real quiet and sweet but super deep and it always had exactly what I needed to have just one more spark of motivation or hope. And you do that. And I'll never forget those precious gifts and moments from your heart that changed my life. I love you. And I wouldn't ask God to remove you for anything in the world."
-
"Thank you for spreading so much love. We need a lot more of that."
-
"Where on earth did you come from?! You are like a fierce lioness angel warrior type human prototype… I love what you have to say, keep it up sister."
"I love what you do friend. This one today is resonating with me at epic proportions. Your posts are so grounding and unremarkably sensational. Feeling rather lost though the mess but your words guide me through it. Moments of the hardships build my character and I am growing what I am going through. You are the light through the dark times. Namaste. Peace and love."
-
"Your words are always inspirational. A person with much wisdom has been through much adversity. Keep the positive energy going - it's a movement."
-
"Thank YOU. It is people like you who help us all see… indeed life is beautiful."
"Without even meeting you my experience of your commitment to others feeling love is so fresh and powerful, you have an impact on me every post you make… Thank you for doing whatever it took to get to where you are today, you really are loved and please always remember exactly who you are at the core. I appreciate your vulnerability about your meltdown as it shows transparency and so relatable with me even as a man."
-
"G you are a blessing in my life. You are inspiring."
-
"Dude, as soon as I listened to your style... I was hooked"
COPYRIGHT GRIGORIA KRITSOTELIS 2021 | ALL RIGHTS RESERVED
THIS STUFF BELONGS TO ME - IF YOU STEAL IT, YOU'RE NAUGHTY