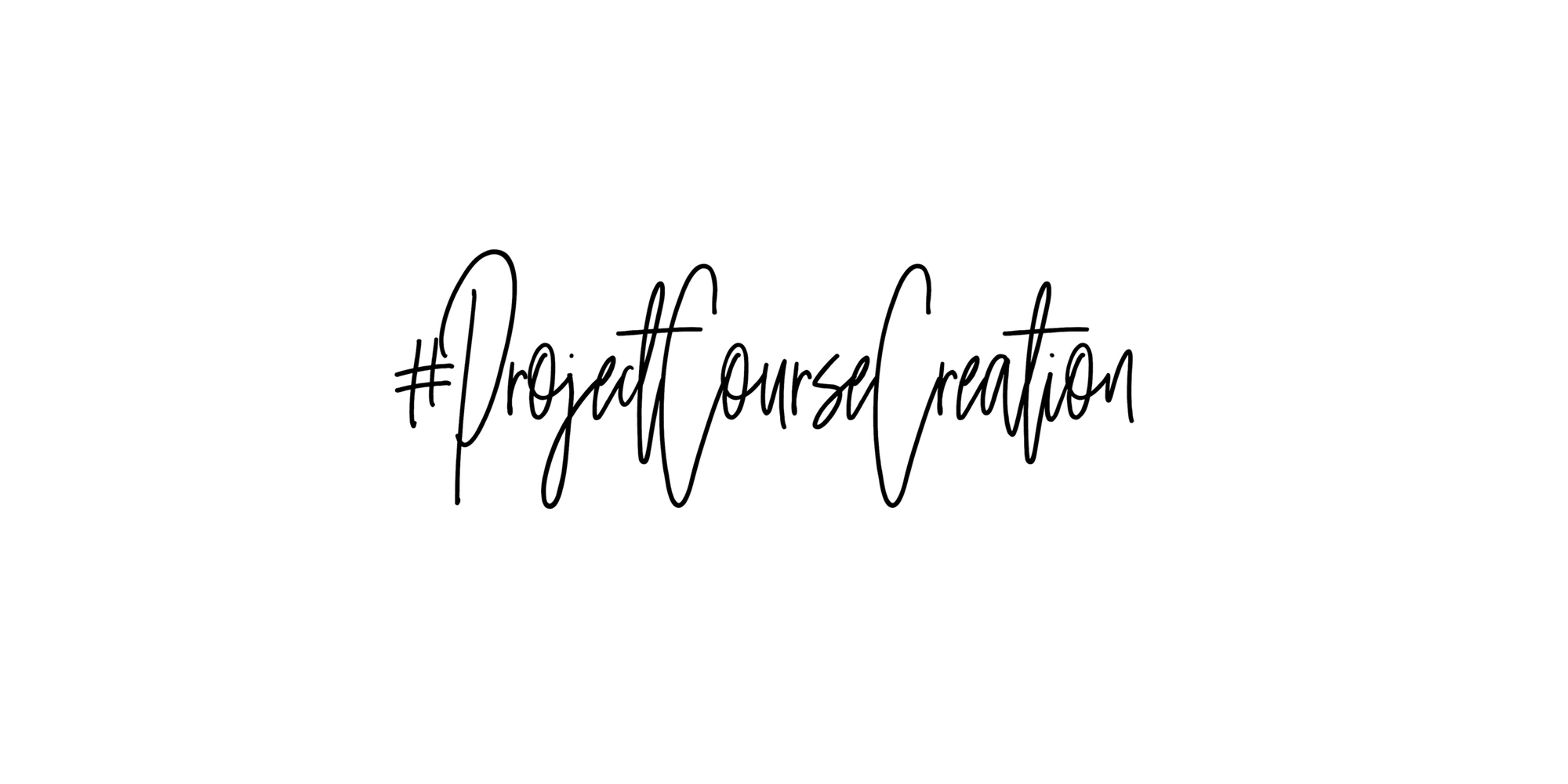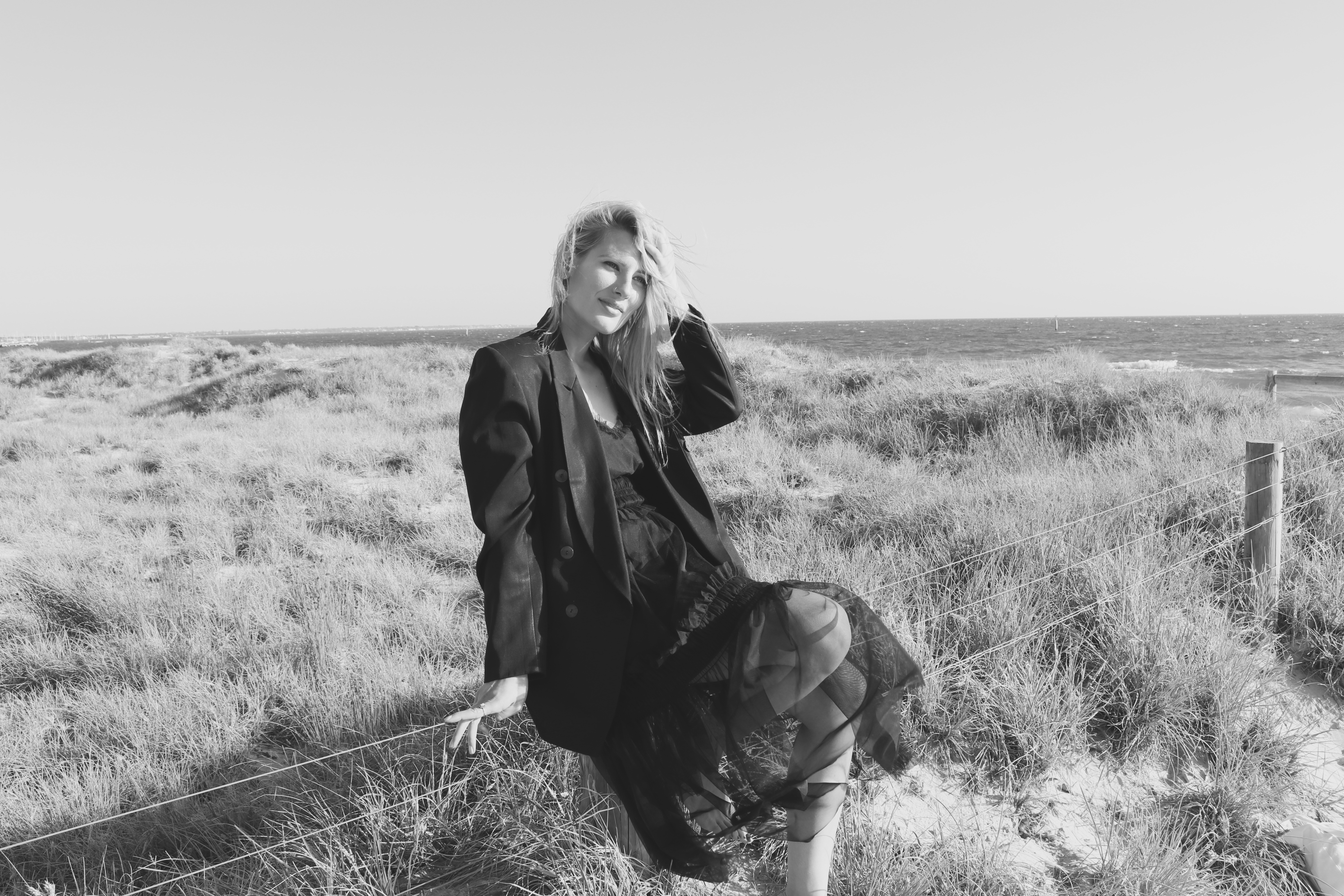 WHAT IS THIS COURSE ABOUT?
I remember when I first ventured into the online business world, and it was scary. It was a whole big world that I didn't know how to work, and all of these "successful" entrepreneurs were telling me to run 100 miles an hour. And at first, I did that. I ran. And lots of dollars, hours and sleepless nights later, I realised that I hadn't taken a moment to get off the treadmill.
I made so many mistakes, but I'm so grateful I did, because now I have the opportunity to help others avoid those mistakes and fast track their online business success. There is no one size fits all in business, but there are some really great ideas, that are known to contribute to helping you serve your people. An online course is one of those things. Online courses were probably one thing that I picked up straight away. I remember creating my first digital course, and then making that first sale, and the best part was the first testimonial. I am still friends with some of the students that took my first course many moons ago.
And since then, I have created A LOT of online courses, not just for myself, but for clients too. And I have created a simplified process to create heart-filled, of service, high value courses. And so, Project Course Creation was born. A 6 step process to create your online course. Even if this isn't your first rodeo, this process will help you fast track the creation process. By the end of this course, you should have a ready-to-sell online course. The best part is that you can use this course over and over again to create as many online courses as you desire.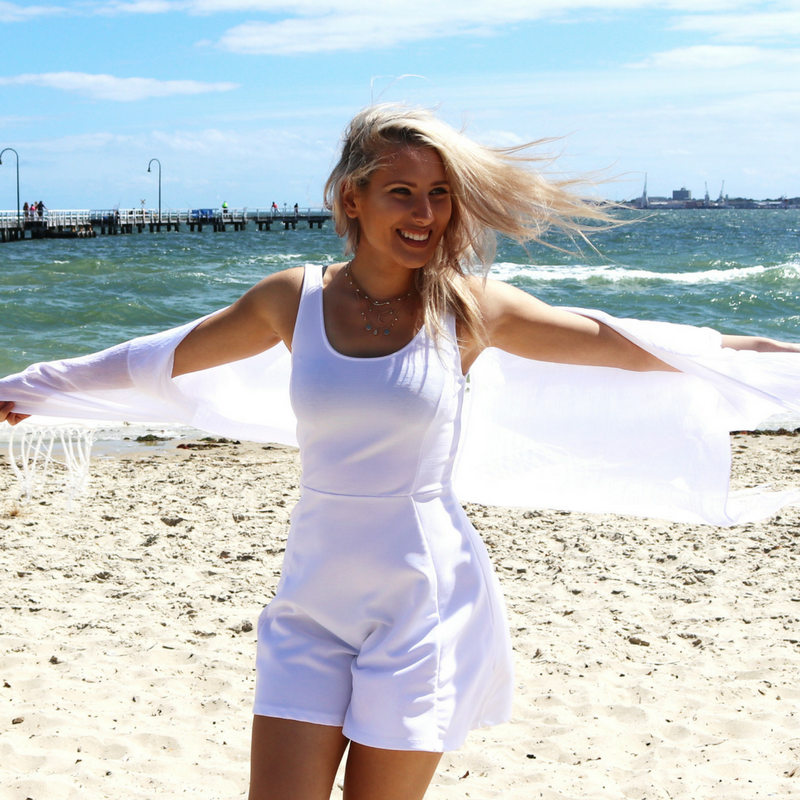 MEET GRIGORIA
Before you choose to embark on this journey you will want to know a bit more about Grigoria:
GRIGORIA KRITSOTELIS
SPIRITUAL TEACHER & MINDSET COACH
Grigoria is a Marketing Consultant turned Spiritual Teacher and Mindset Coach. She is dedicated to raising the vibration of the earth by spreading the message of light and love.
Grigoria has mastered her craft in the Spiritual arena and applies spiritual practices to all her teachings. She is a thought leader, creative intellect and has a magnetic light-filled energy that demands the attention from any room she enters. She has used these skills to speak on stages, host retreats and events, and create hundreds of training content to serve her audience. Her focus is on creating a sacred safe space for people to reconnect with their true selves, remove their limiting beliefs that come from misguided thoughts and teachings and return to a state of alignment with the vibrational frequency of love.

Grigoria isn't just a teacher of spirituality, she embodies the light-filled energy she teaches and commits to sharing her knowledge on reprogramming the subconscious mind so that everyone can consciously live a life they desire.

A message from Gee:
My goal in life is to be one of those people who are just light. You see them and you suddenly feel so warm inside, and all you want to do is hug them. And they look at you and smile with the warmest light in their eyes... and you love them. Not in a romantic way, but you just want to be close to them and you hope some of their light transfers onto you.
DELIVERY
The course will commence as soon as you sign up!!
Within 24 hours you will receive an email with access to all the course material.

PROJECT COURSE CREATION is delivered over a period of 6 STEPS.
6 x Training Modules
1 x Interactive Workbook
Lifetime Access to the Course Material
WHAT'S INCLUDED IN THE COURSE
A WORKBOOK
The course videos are paired with an interactive workbook, designed to be an "all-in-one" creation station. After each module video you complete the activities in the workbook pertaining to that module, and by the end of the course you will have a ready-to-sell digital course.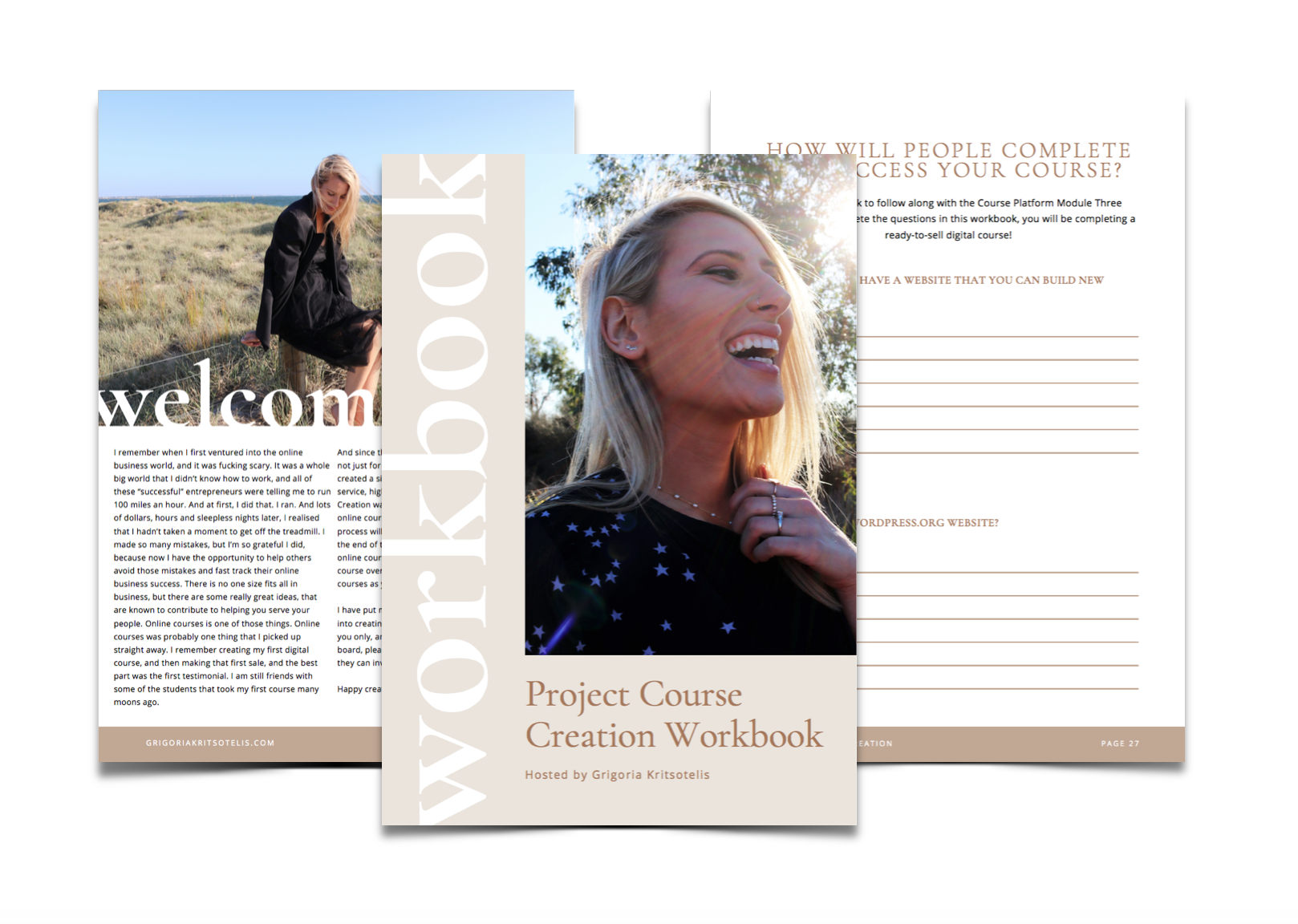 TRAINING MODULES
We have segmented Course Creation into six sections. Each module brings you one step closer to a completed course. The videos are designed to simplify the creation process, making your work easier. This process can be used on any platform.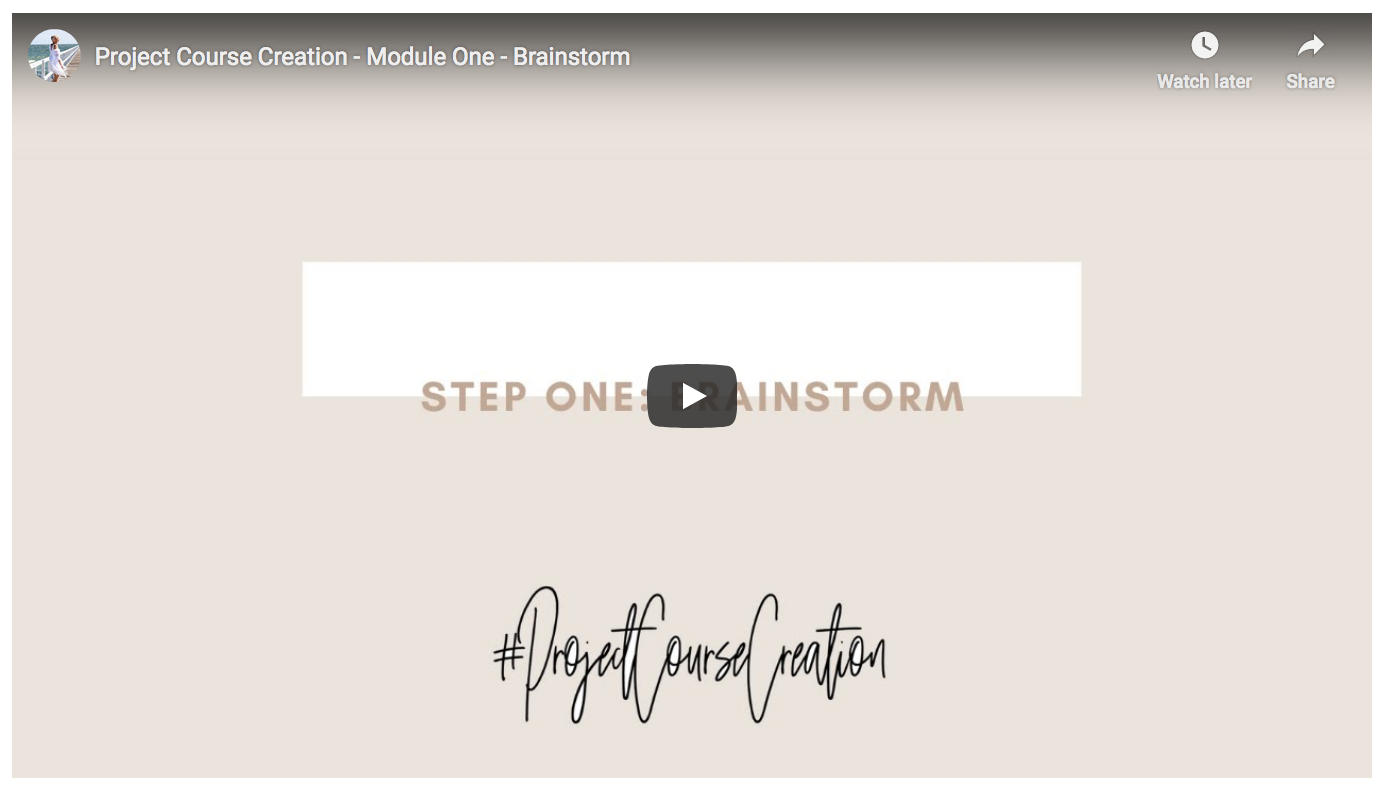 EMAIL ACCESS
You will have email access to Grigoria for the first 30 days for urgent questions and additional support. You can expect responses within 24-48 hours.

What do you want your course to be about?
How will you deliver your course?
How will people complete and access your course?
How do you create content?
How do you price and promote your course?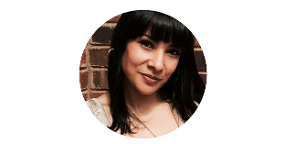 "Before working with Grigoria, I had a vague idea of my business, what I wanted to do, and what that could look like. After working with Grigoria, I have 6 programs, clarity about my vision and mission, the know how to create products and services, the confidence to be authentically me and the skills necessary to stay consistent and spiritually centered throughout this entrepreneurial journey. I went from 0-100 in less than 30 days! Grigoria is brilliant! She not only supported me through my hustle in building the business, she also helped me dig deeper into the desires of my soul, giving me action steps to go forward with my Divine Mission, while also reminding me to be gentle with myself and the process. Without a doubt, I would not be where I am now, if it weren't for everything she has taught me. I am forever grateful for working with her and know that she will help millions of others like me who are entrepreneurial, spiritual and ready to finally say yes to the Divine Work they were meant to bring forth in the world. And for that I also know that this world will be a better place. Thank you G!"
Danayra del Castillo | Founder of The Mystic Experience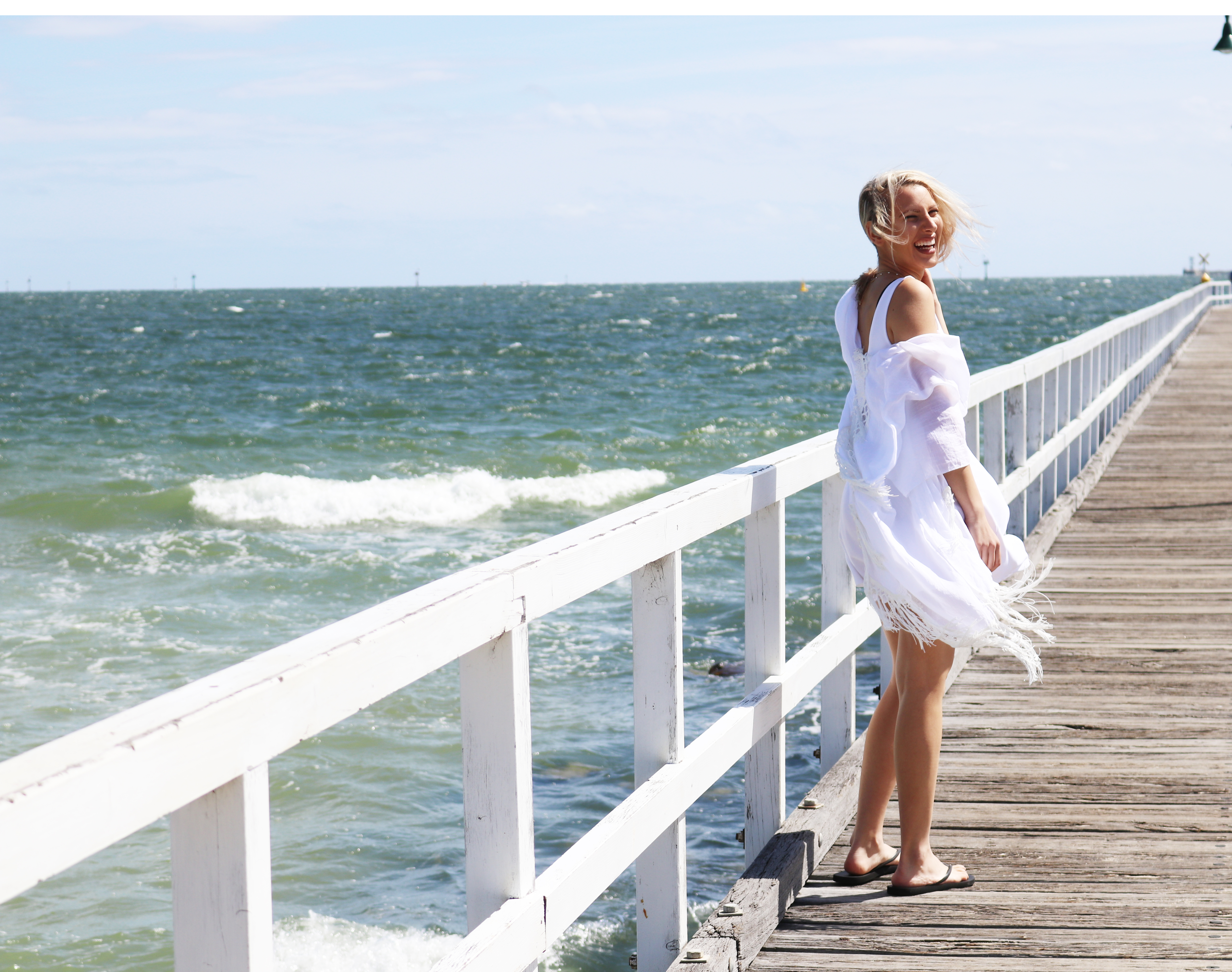 INVESTMENT FOR #PROJECT COURSE CREATION
$97 USD
"Thank you for being a part of my life. It does get really lonely and sometimes discouraging when people around you don't really get what we do and even sometimes put us down. Your energy always gives me that extra push I need. I've been going through a lot lately but to be honest your presence, posts, energy and prayers helped tremendously. Thank you sweetie one more time and keep throwing glitter and love around for it always places a smile on my face and inspires me more than you could imagine."
-
"You are such a light. I love your posts. They brighten my day. Thank you for being you and sharing your heart/love."
"You are so awesome G, and I am grateful to have you in my life. Straight up. Many nights God spoke right to you and you would share something real quiet and sweet but super deep and it always had exactly what I needed to have just one more spark of motivation or hope. And you do that. And I'll never forget those precious gifts and moments from your heart that changed my life. I love you. And I wouldn't ask God to remove you for anything in the world."
-
"Thank you for spreading so much love. We need a lot more of that."
-
"Where on earth did you come from?! You are like a fierce lioness angel warrior type human prototype… I love what you have to say, keep it up sister."
"I love what you do friend. This one today is resonating with me at epic proportions. Your posts are so grounding and unremarkably sensational. Feeling rather lost though the mess but your words guide me through it. Moments of the hardships build my character and I am growing what I am going through. You are the light through the dark times. Namaste. Peace and love."
-
"Your words are always inspirational. A person with much wisdom has been through much adversity. Keep the positive energy going - it's a movement."
-
"Thank YOU. It is people like you who help us all see… indeed life is beautiful."
"Without even meeting you my experience of your commitment to others feeling love is so fresh and powerful, you have an impact on me every post you make… Thank you for doing whatever it took to get to where you are today, you really are loved and please always remember exactly who you are at the core. I appreciate your vulnerability about your meltdown as it shows transparency and so relatable with me even as a man."
-
"G you are a blessing in my life. You are inspiring."
-
"Dude, as soon as I listened to your style... I was hooked"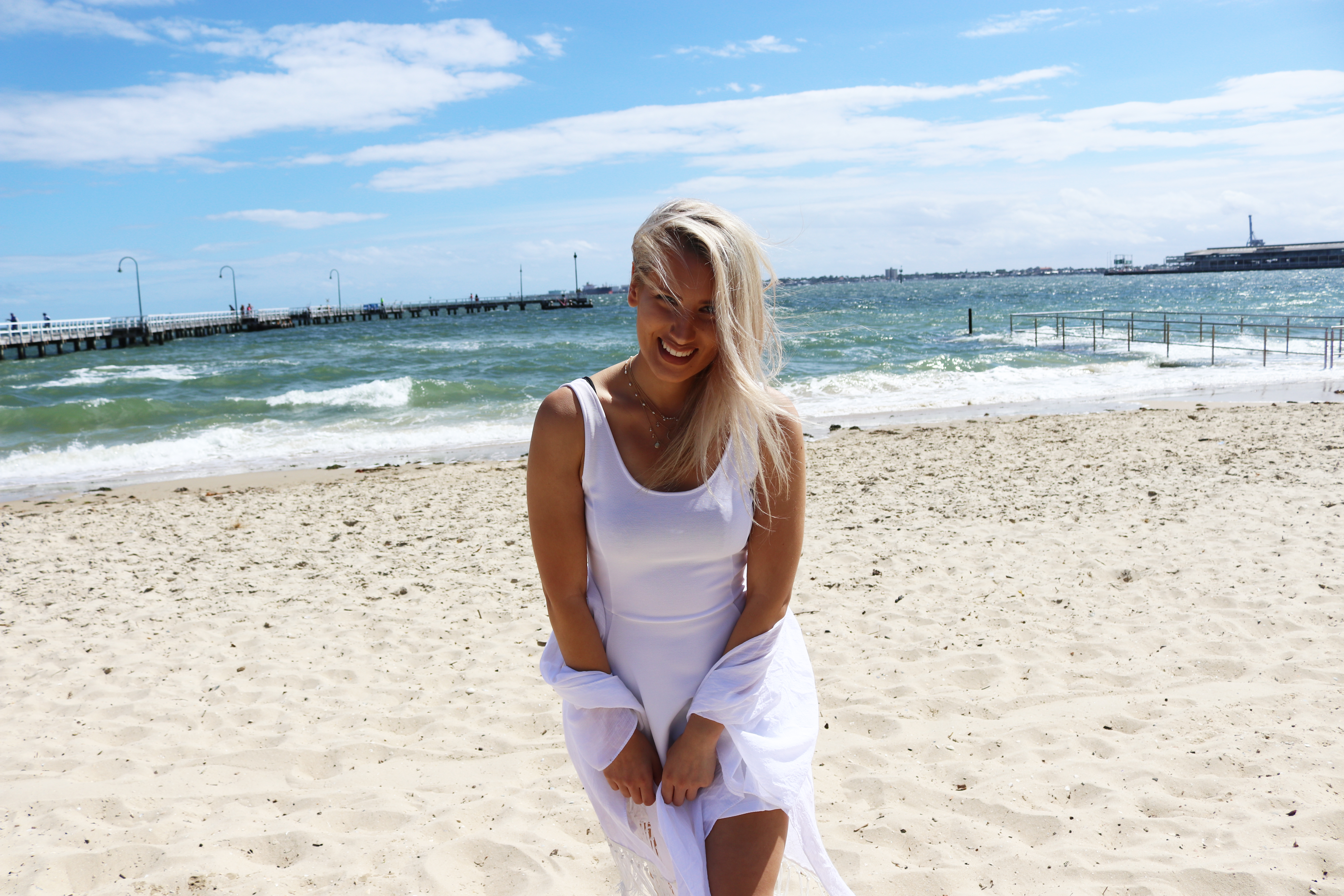 HOW LONG DOES THIS COURSE LAST?
PROJECT COURSE CREATION is a six module course. It is a self-paced course, so you can choose to complete the course in one day, or to take 6 months to complete it. It is up to you. You have lifetime access to the course material, and can reuse the material for as many courses as you desire.
WHAT IF I CHANGE MY MIND?
COPYRIGHT GRIGORIA KRITSOTELIS 2020 | ALL RIGHTS RESERVED
THIS STUFF BELONGS TO ME - IF YOU STEAL IT, YOU'RE NAUGHTY