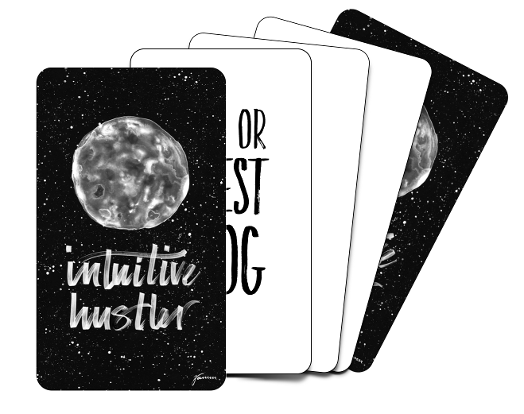 A CARD DECK DESIGNED FOR THE INTUITIVE HUSTLER
I am an Intuitive Hustler.
I am 50% Law Of Attraction/Manifesting Queen/Alignment Junkie/Spiritual, and
I am 50% Hustler/Work Hard/Grind/Keep Moving Forward
Often I am conflicted when I try to find balance, because the Law Of Attraction says this…
Hard work is not the path to well-being.
Feeling good is the path to well-being.
You don't create through action; you create through vibration.
And then, your vibration calls action from you.
-Abraham Hicks
On the other hand, the Hustler mentality, and from the words of one of my favourite entrepreneurs, Gary Vee, says…
If you want this, if you want the bling bling, if you want to buy the Jets… Work. That's how you get it.
I have a long time finding the balance between being Intuitive and being a Hustler. I have found that balance.
I now take "inspired action". I create my vision boards, I set my intentions, I ask the universe for what I desire, and then, I receive "signs", I receive sudden bursts of inspiration, I dream up ideas. Then it is my duty, my responsibility, to follow through and commit to those ideas and bring them to life. If I do not do this, then I have achieved nothing.
We created a card deck that we wish we had. It is designed for you!! The Intuitive Hustler. Ask for guidance, shuffle the deck, let the deck absorb your energy and choose a card. Each card has a marketing activity written on it. The accompanying guide book explains in detail how to perform the chosen marketing activity. This deck has been carefully constructed to utilise the top 52 marketing activities being used today. You allow your intuition to guide you to take inspired action.

Ask. Receive. Follow through. Commit. And make it happen!
All card decks come in a beautiful box and are accompanied by a guide book.
ONLY
$35
Additional shipping charges apply
COPYRIGHT GRIGORIA KRITSOTELIS 2018 | ALL RIGHTS RESERVED
THIS STUFF BELONGS TO ME - IF YOU STEAL IT, YOU'RE NAUGHTY