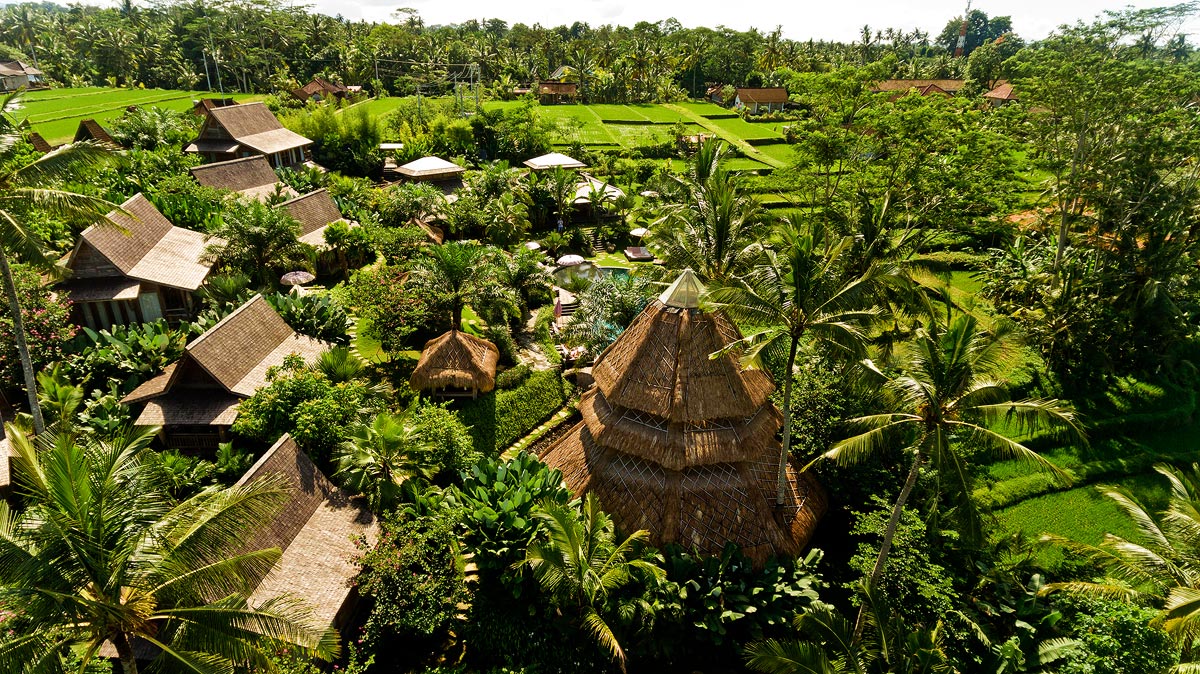 CHAKRA CONNECTION RETREAT
TRANSCENDING THROUGH YOUR CHAKRAS

THOUGHT PROVOKING, MIND-EXPANDING RETREAT - AN ADVENTURE FOR YOUR MIND, BODY & SPIRIT
Ubud, Bali | May 22-29 2019
AN EXOTIC TROPICAL RETREAT HELD IN THE SACRED VORTEX OF UBUD, BALI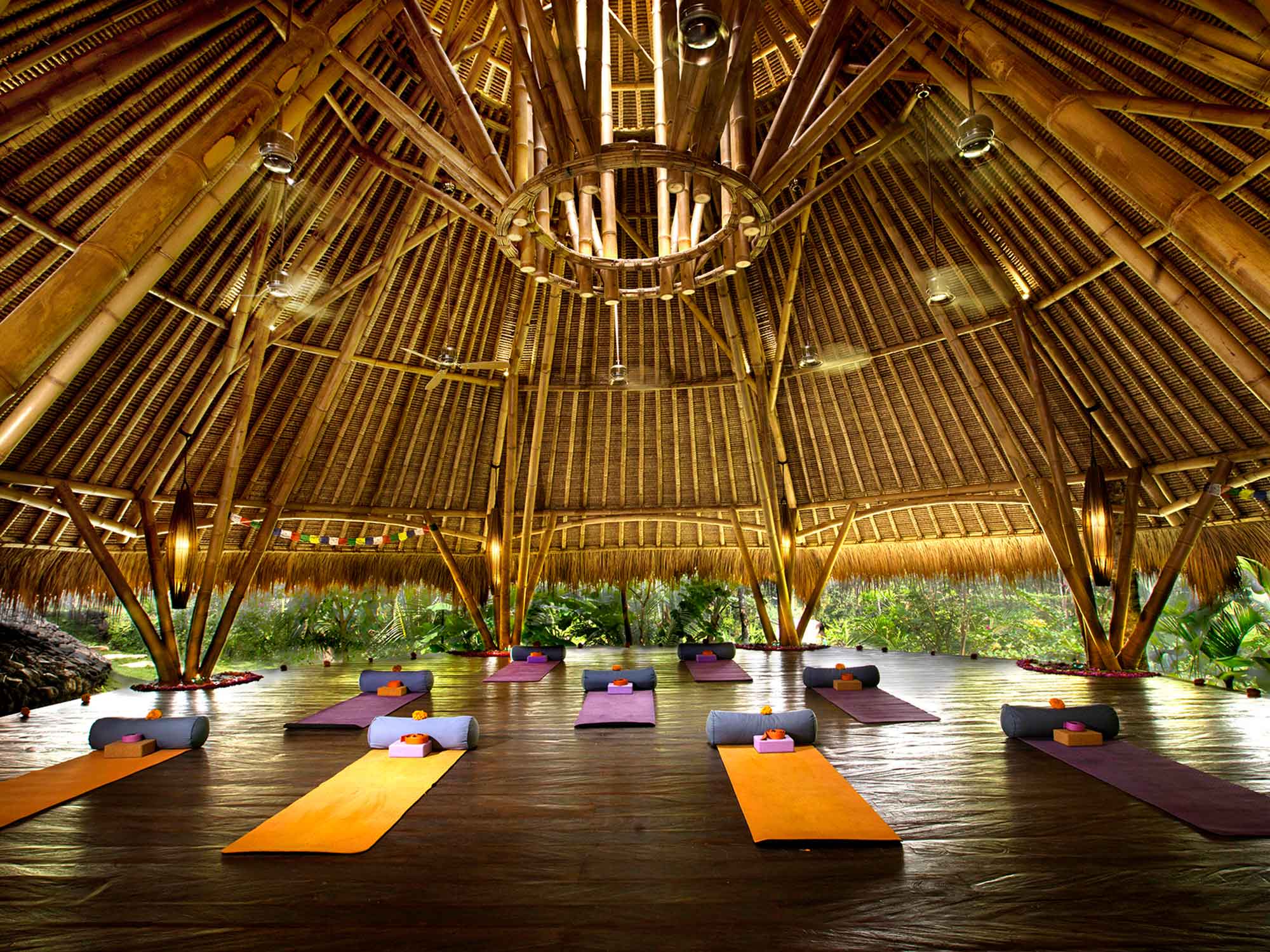 Imagine being part of a consciousness immersion. Surrounded by a conscious collective, on a luxury experience, ready to awaken to their Divine Power and expand their mind. Our focus is on deep subconscious perspective shifting to create new neural pathways which will alter your perceived reality and transform your creative power. Surrounded by sacred spiritual Balinese energy, and only a few minutes from the epicenter of Ubud culture, get ready for an 8 day retreat that provides you with the space and time to focus intently on the physical and spiritual pursuits of growth, expansion, surrender and shifting. Get ready to rediscover yourself.
THE HIGHLIGHTS
Nourishing vegan meals and juices
7 nights in a luxury suite
Daily sunrise yoga practices
Spiritual Purification Water Ceremony
Sound Healing & Cacao Ceremony
Tailored workshops led by Spiritual Teachers, Healers and Advocates
Lush jungle surroundings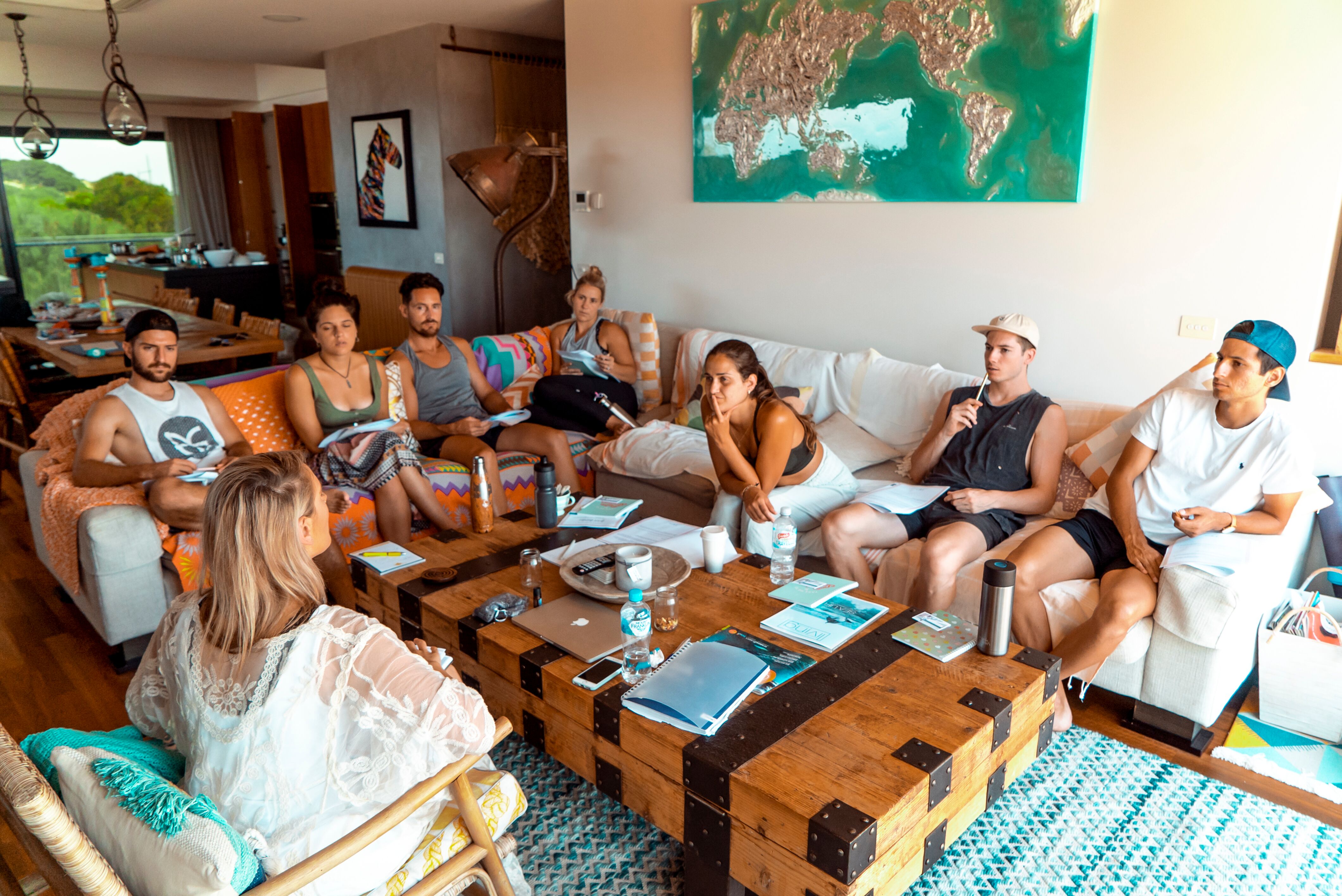 THE CONSCIOUS COLLECTIVE RETREAT EXPERIENCE
Sometimes there are experiences that we dream of, and often they remain dreams. The Conscious Collective Retreat Experience was birthed from visions we all held about what we wanted to experience, and we wanted to explore those visions as a collective. With you in mind, we created an experience that is transformational and will tap into your subconscious mind and spark incredible shifts to enlighten and awaken your connection to your true self.
We have been incredibly mindful of the results we intend from this experience and so every detail has been intentionally planned and thought out.
We aim to reconnect your inner guidance system so you can once again see through allyour senses and not just your eyes.
We are bringing together 24 high vibration, light workers from around the world to be part of this experience with us. Together, we create a space that is sacred and safe, allowing you a place to truly surrender into the experience. You will walk away, not just with lifetime friends and connections, but with pieces of your own soul.
No stone has been left unturned and we know that if this is calling you, then it's for you. And if it's not for you, it's ok, maybe you aren't ready for this yet.
We honour you, we honour where you're at, and for those of you who are ready, we welcome you into our soul tribe and can't wait to see you in Ubud, Bali.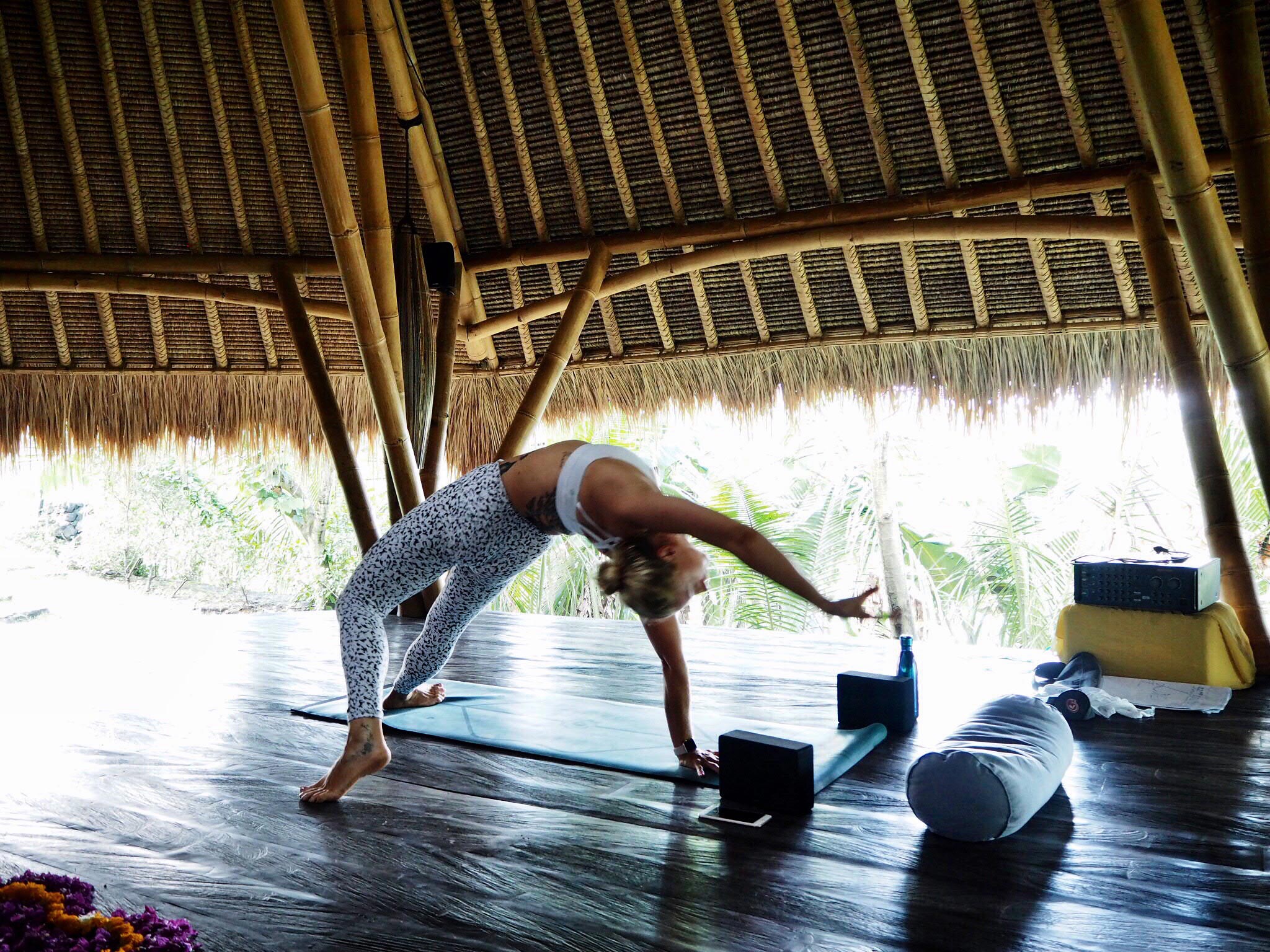 WHAT'S INCLUDED IN THIS INCREDIBLE IMMERSIVE EXPERIENCE
7 nights private luxury suite
8 days of morning yoga, meditation and vegan meals
1 hour Balinese Massage
Opening Ceremony and Sacred Space and Ancestral Connection Ceremony
Daily fresh juices
Drinking water
Chakra Activation Meditation and Daily Chakra Connection Meditations
Retreat and Bali Information Pack
Post Retreat Guidance and Support in Private Facebook Group
Goodie Bag upon arrival with incredible gifts from all our sponsors
Access to 4 incredible facilitators who specialise in Spiritual Teachings, Healing and Mindset for 8 Days!! (Priceless!!)
DECIDE TO PAY IN FULL?
Add these special treats to your inclusions:
1 year membership to The Conscious Collective Hub Membership Platform (Over $300 in value)
1 x 1:1 Private Coaching Session with any of your Facilitators post retreat (Over $500 in value)
1 x ticket to The Conscious Collective Wholly Shift Workshop (Level 1, 2 or 3) (Over $299 in value)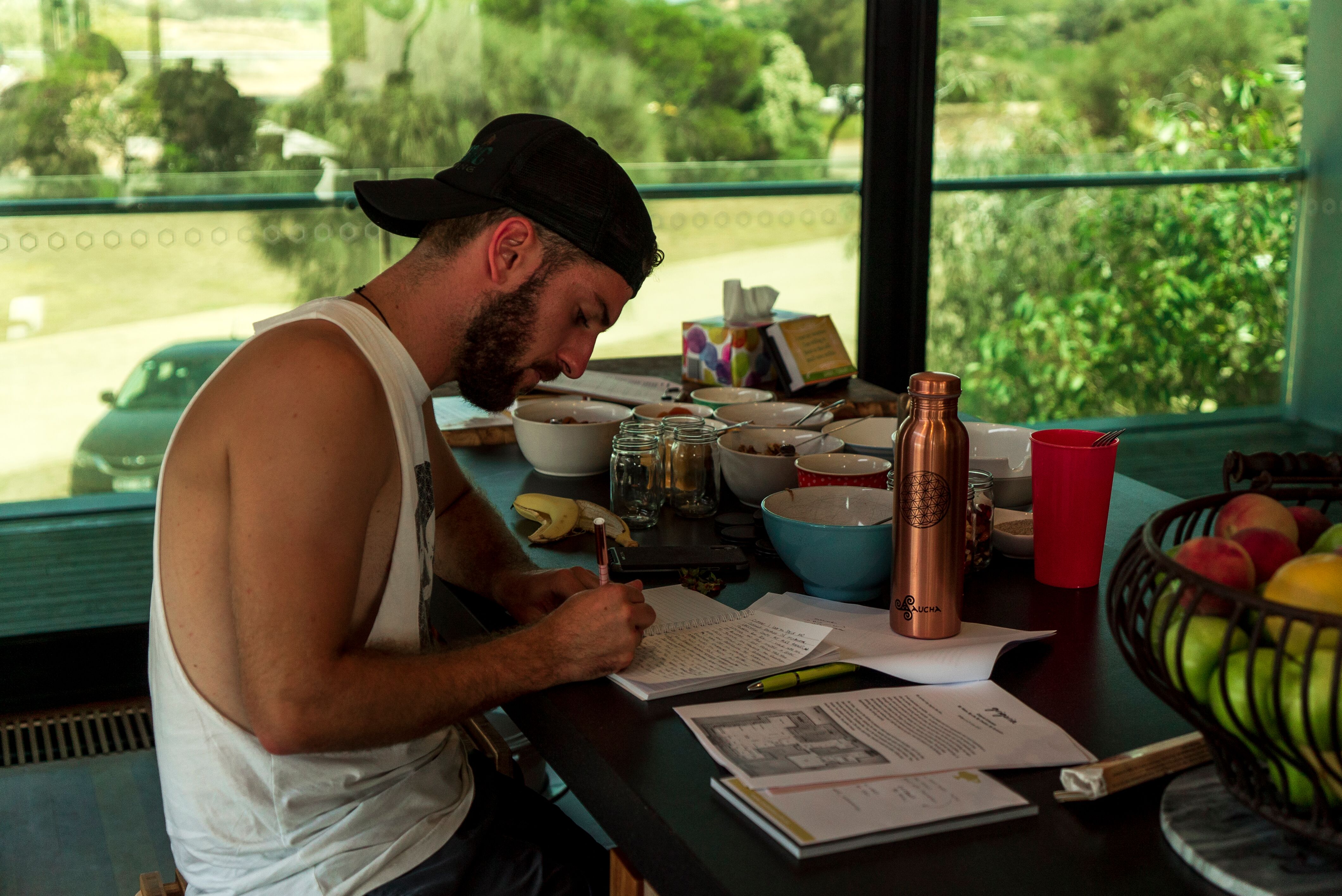 HOW YOU LEAVE THE RETREAT
Our main priority on this retreat is for you to experience a complete subconscious mind shift.
We have created a one of a kind experience where we connect to every Chakra, tune into the vibration of it and embody it on a holistic level; mind, body and spirit. Every day we devote our energy to one Chakra and begin to understand it on a cellular level.
You will all have a unique experience, as we are all on our own soul journey, however you can expect to experience some of the following; breakthroughs, spiritual enlightenment, awakenings, the feeling of ascension, a clear and definitive mind-body connection, a cleansed digestive tract, anti-inflammation, vitality, heightened energy, vivid dreamtime experiences, elation, alignment, clear communication with Source (you will begin to understand the messages that come through) and the elimination of heavy feelings in the body.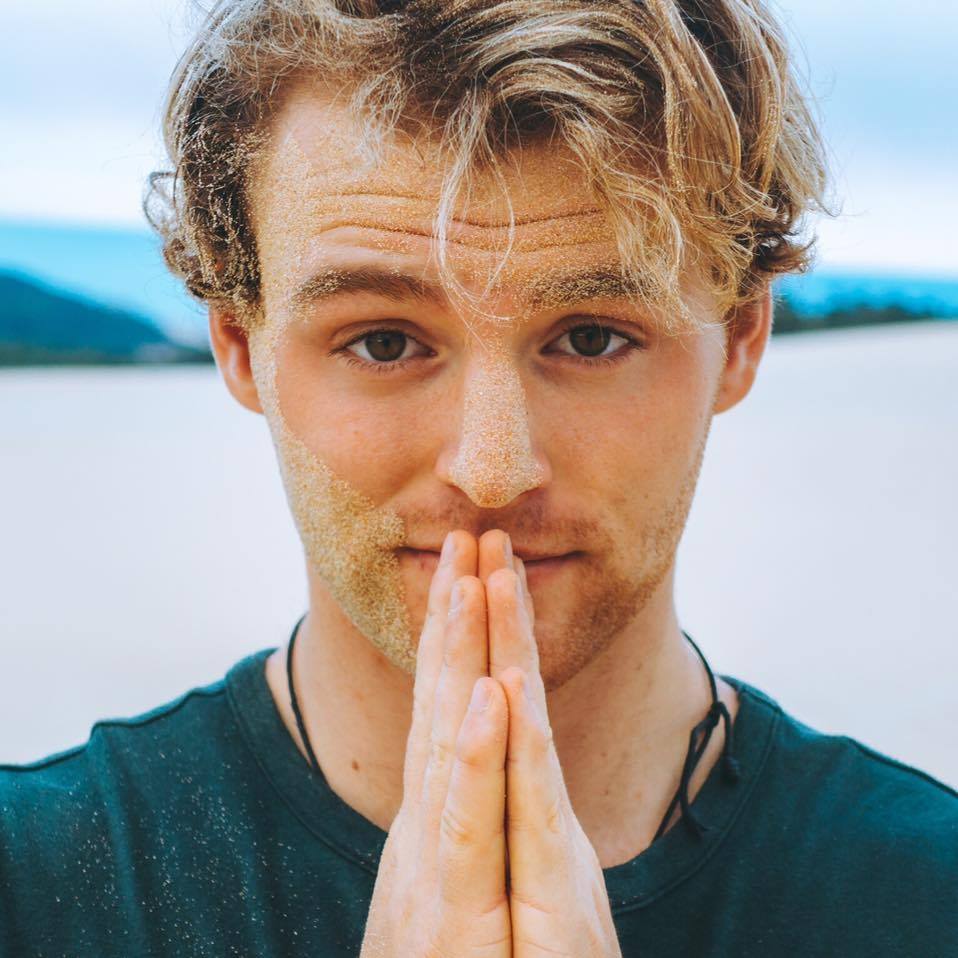 "I recently attended a Mastermind retreat hosted by the lovely Carlo Cirillo & Grigoria Kritsotelis. This was my first ever retreat, so I never knew what kind of impact it could have. Just by going for one of the three days that this was on, I've learnt so many lessons that helped blossom the relationship I have with myself, my girlfriend, and all the loved ones in my life. Not only that, but I had the opportunity to meet many amazing souls. If you're interested in self growth, check out The Conscious Collective, all love."
TOM SIMAK | ATTENDED TORQUAY, VICTORIA RETREAT FEB 2019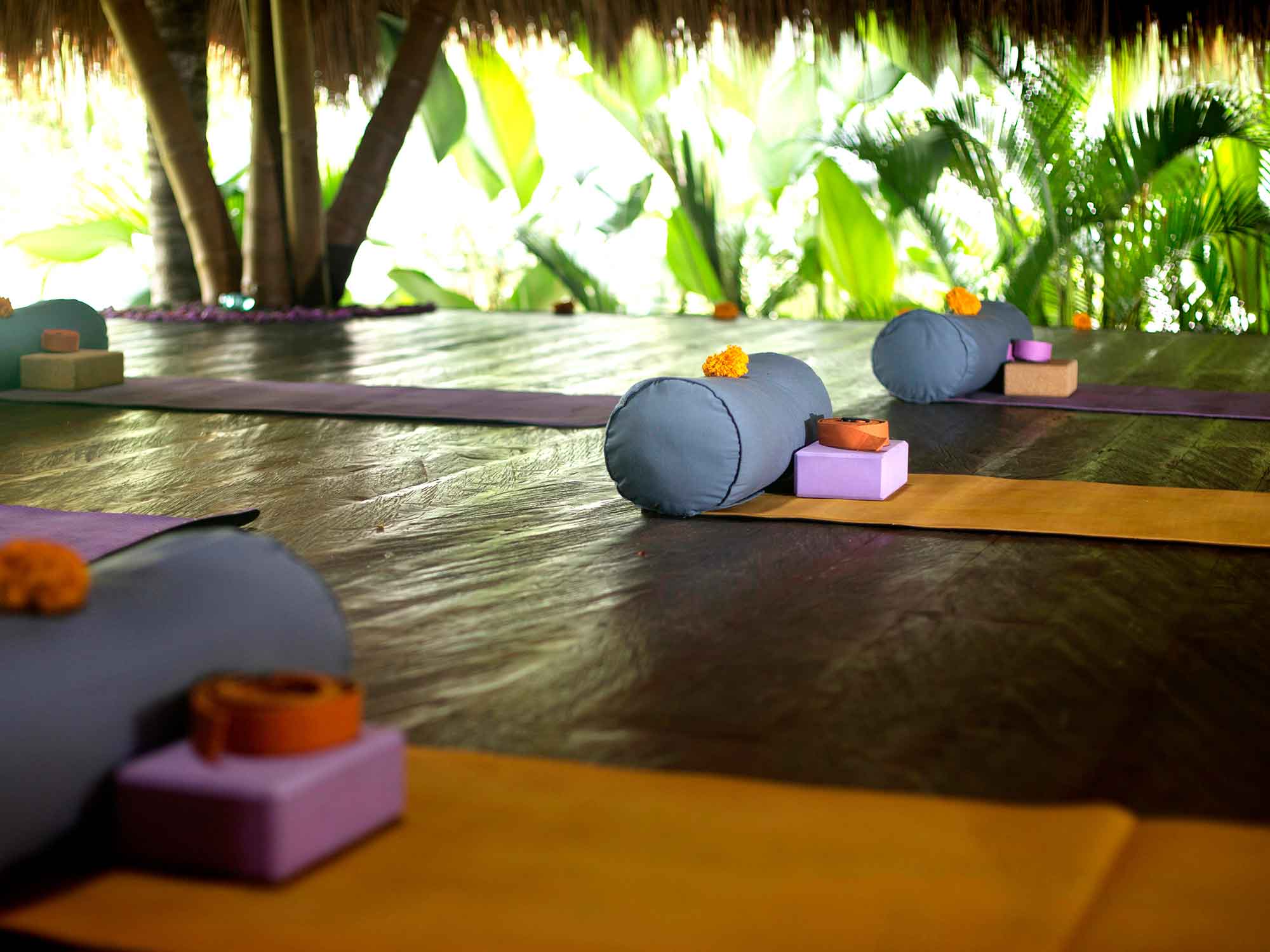 DAILY YOGA AND MEDITATION
Everyday we start our mornings with Chakra Guided Yoga and Meditations. Each day we connect to the selected Chakra and tune in through sacred and ancient movements. This allows us to deepen the relationship with our inner selves.
Sacred movement, an energetic vortex, fresh crisp air and deep meditations allow you to boost your energy centres, align with a high vibrational offering and embody joy.
Our Chakra Guided Yoga Practices and Meditations are known to bring awareness back into the body, connecting to your inner guide and inviting the intention for healing, restoration and balance to all seven Chakras.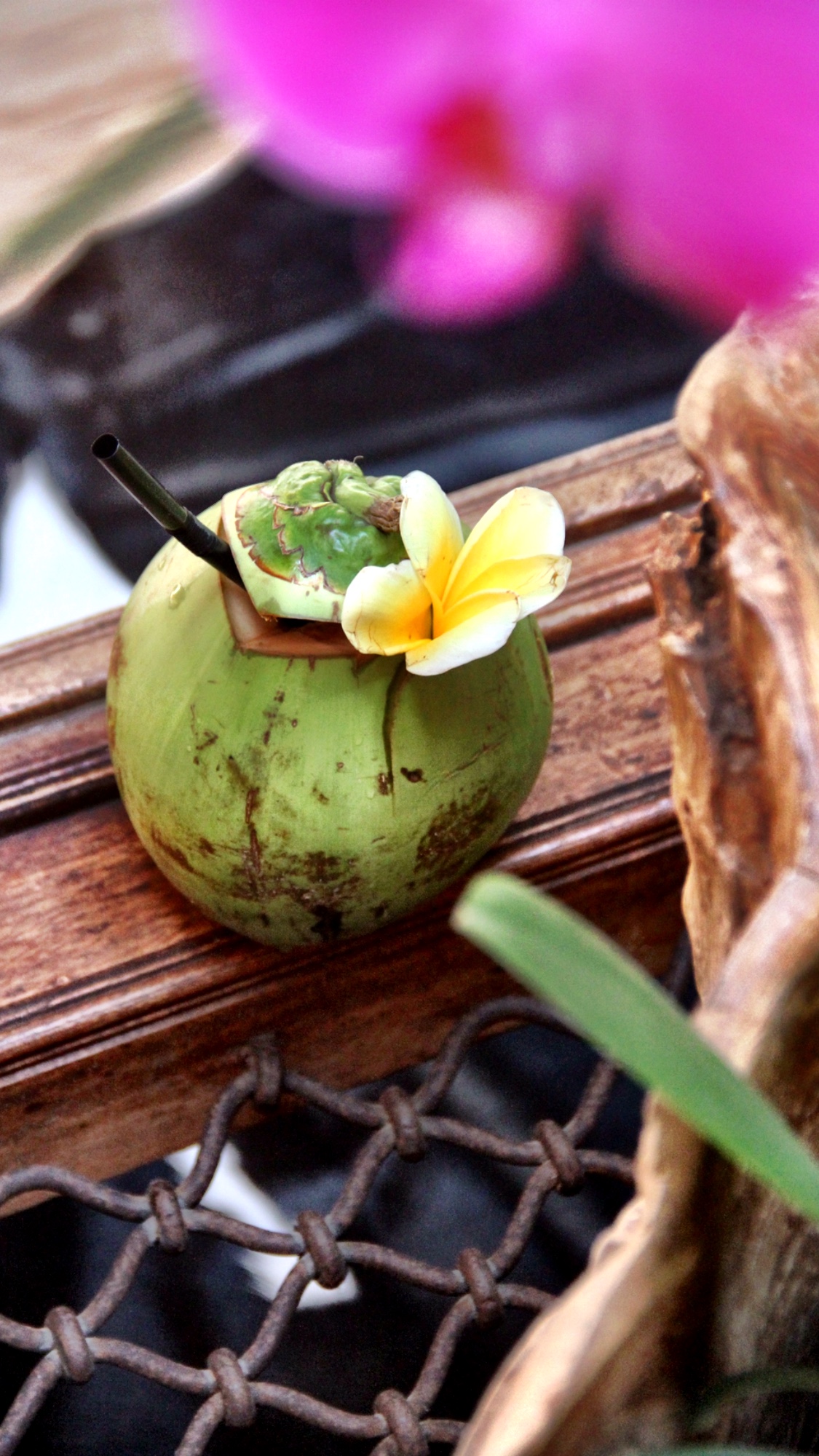 THE FOOD
Combining a holistic approach to wellness, we have created a plant-based menu which awakens the senses and lifts your spirit. Kicking off the day with energizing snacks and a delicious breakfast featuring superfoods and fresh produce. A revitalising salad bar is available for lunch, with a blend of fresh veggies and secret recipes. Most dinners are included, where we sit as a collective to nurture our bonds and learn about the vibration of the food we eat. Let it all go, with herbal infusions and raw cacao promising a good night sleep. We take desserts very seriously, because they remind us that life is meant to be sweet and pleasurable, so don't worry - there will be plenty of yummy vegan sweet treats.
(All meals will be plant-based vegan, but we can accommodate for all dietary requirements upon request - please make sure to specify upon booking)

THE VENUE
Where the jungle meets sacred land - located in the beautiful Rice Fields of Ubud, Bali, get ready to satisfy your senses with incredible views, the smell of nature, the sounds of plant and animal life and the feeling of serenity. We believe in the Divinity of all people, places and experiences - we didn't choose this incredible space, it chose us. You called upon it and in return it will provide a safe and sacred space for us to expand and connect. Highlighting a breathtaking infinity pool, panoramic views of the surrounding fields and mountains along with incredibly spacious and luxurious rooms for all our guests, its an oasis awaiting your visit.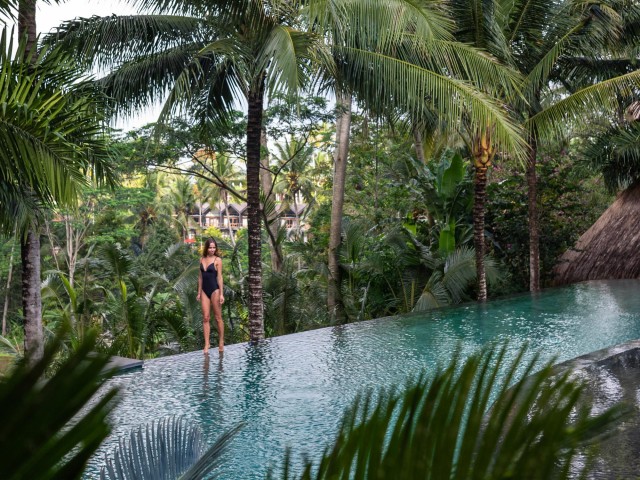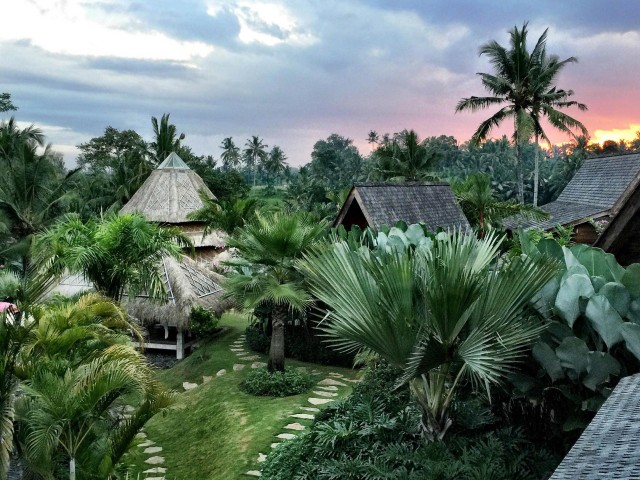 MORE ABOUT THE SPACE
Sensational surrounds and panoramic views
Spacious and luxurious suites
An infinity swimming pool
An abundance of sacred living space
Free Wi-Fi access
House-made shower gel, massage oils, shampoo & conditioner
Dining and lounge areas
Yoga shala with sunset view
A peaceful and serene atmosphere
Drinking water provided in each room
Yoga mats, blocks, straps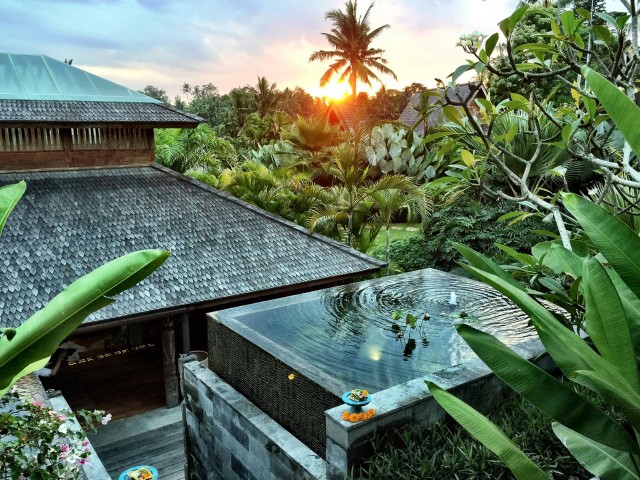 ABOUT THE RETREAT & INCLUSIONS
8 days / 7 nights
Morning Chakra Guided Yoga Practice
Daily Chakra Guided Meditation
All vegan breakfasts, lunches and dinners
Excursions to the surrounding land and sacred ceremonial spaces
AND ALSO THESE...!
Prayer | Meditation | Blessings | Massage | Readings | Workshops | Healing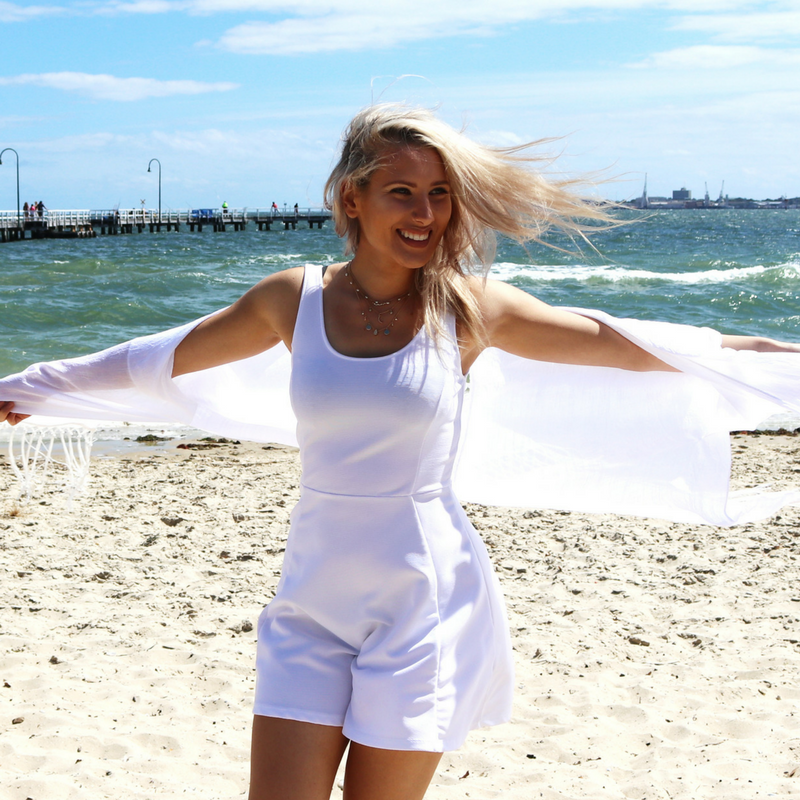 GRIGORIA KRITSOTELIS
SPIRITUAL ENTREPRENEUR, BUSINESS & MINDSET COACH
Grigoria is a marketing consultant turned spiritual entrepreneur, business and mindset coach. She is dedicated to lifting the vibration of the earth by spreading the message of light.
Grigoria is a thought leader, entrepreneur and a creative intellect. She is able to graciously and sometimes even ferociously find the balance between the hustle and the intuitive. She is a very kind and giving soul, she genuinely cares about people and their well-being, and is always looking to help, connect and empower people. She is also strikingly driven and focused. Grigoria is filled with creative and inspiring ideas, she writes and shares from her heart and creates a magical sacred space for others to open up freely.

She's unlike anyone you have ever met. She reminds you of no one else.
A message from Gee:
My goal in life is to be one of those people who are just light. You see them and you suddenly feel so warm inside, and all you want to do is hug them. And they look at you and smile with the warmest light in their eyes... and you love them. Not in a romantic way, but you just want to be close to them and you hope some of their light transfers onto you.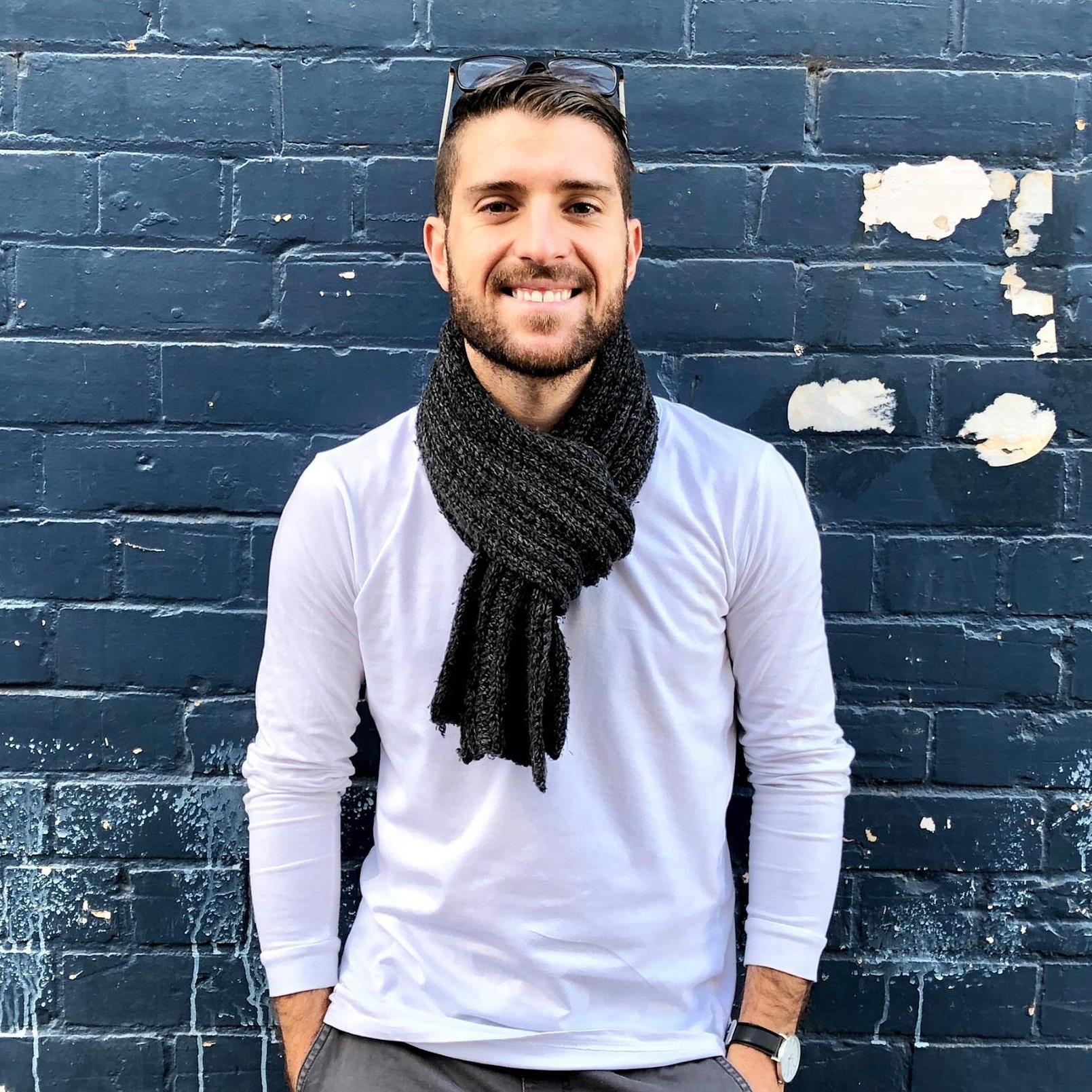 CARLO CIRILLO
CONSCIOUS CREATOR & SERIAL ENTREPRENEUR

Former Semi-pro footballer (soccer), Carlo is now an ambitious Australian conscious creator, entrepreneur impacting the world of business, health and mindfulness.
The social influencer and thought leader has over 6 years of experience in industries such as start up/online and traditional business, marketing, mentoring, coaching and personal development. Mixing both passions of human optimisation and connection, Carlo is a teacher on how to integrate both being spiritually aligned and how to also thrive in your day to day modern life.
As well as being a world traveller Carlo is a coach and mentor, Speaker on Gratitude, Consciousness and Connection, Co founder of subscription snack service Snackbox Co, Host of The Conscious Podcast & Co Founder of The Conscious Collective which includes an online community, retreats, masterminds, events and publications. All of these projects align with Carlo's vision of raising human consciousness and self awareness to be the most authentic and best version we can be to make the most of life!
Learn more about Carlo here.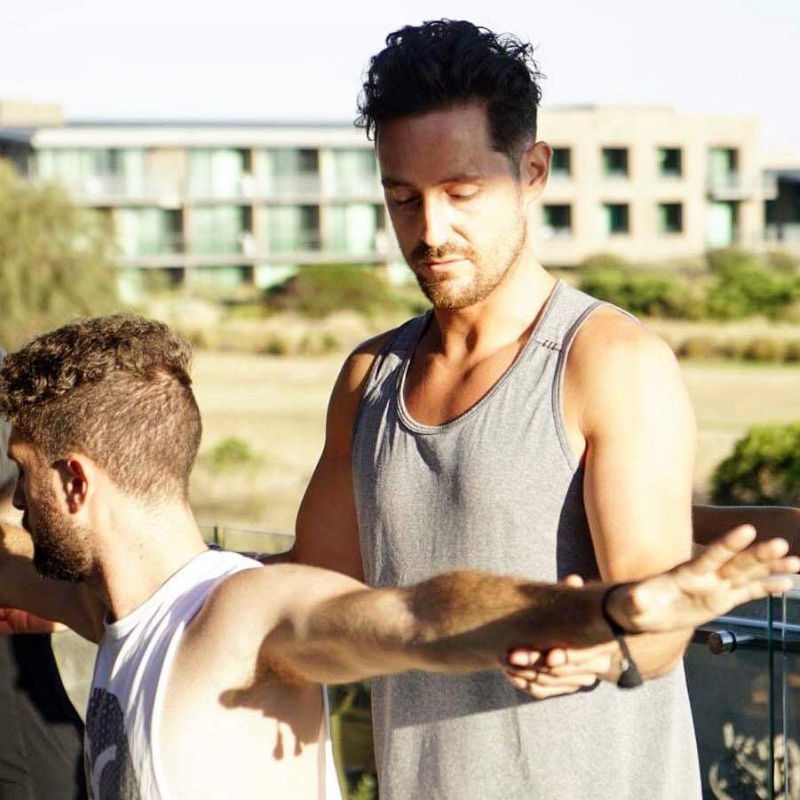 NATHAN MINICOZZI
YOGA & MEDITATION TEACHER, REIKI MASTER, INNOVATRIX PRACTITIONER
Part time corporate executive and part time hippy yogi, Nathan has been working within spiritual and personal development for a number of Years , following a turning point in his life where he questioned , what was his true purpose and how could he receive deeper fulfillment from life. With this at the forefront of his mind he turned his focus to the studies of yoga, Reiki and meditation, nurturing the spiritual aspects and Innovatrix to support the personal development and mental health aspects.
This soulful work lead him on the path to establishing his business Sumati Wellness. With a passionate focus on men's mental health awareness and support, his daily mission is to help one individual overcome challenges in their life and assisting them to rise above the triggers holding them back from being their true and most powerful version that they were designed to be.
He is proud to encompass a lot of his spiritual work into his corporate work where he strives to find a balance between both worlds leading those around him to live a fulfilling and conscious life.
He loves life , is a firm advocate for gratitude and travels as much as he can.
Learn more about Nathan here.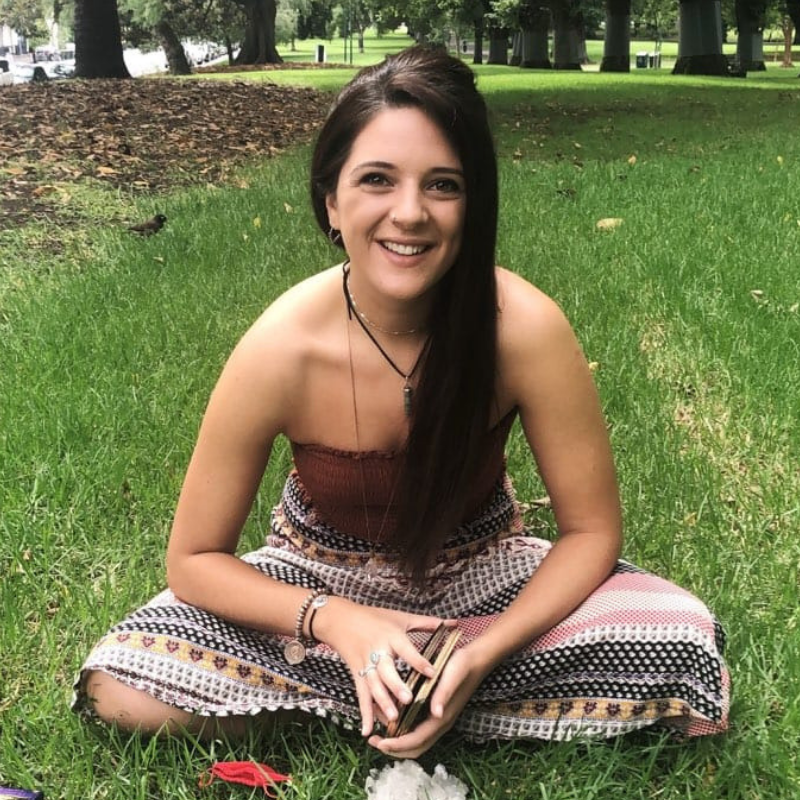 ADRIANA ANDELKOVIC
HEALER, INTUITIVE READER, BUSINESS COACH, EVENT FACILITATOR
Adriana Andelkovic is an energetic, ambitious and grounded young leader. With a vision to raise the vibration and purpose for all beings. She is an intuitive healer, Coach and Speaker. Her focus is on gaining clarity, removing blocks and increasing your love for life.
She works from both a spiritual and practical focus and background. As a healer, Adriana focuses on clearing Chakra points, channeling messages from the Divine to share with you, card reading and mediumship. Clients have walked away feeling a sense of ease, clarity and connection to their highest self. With this unique gift she also incorporates her understanding of energy work, rewiring and shifting from a more practical sense.
Alongside, Adriana is a small business Coach working with corporate clients, small businesses and start ups. Supporting them to take massive and inspired action, and break free from patterns and take their business and life to the next level. As a business owner herself, she has first hand experience in strategy and growth. With a focus on taking action and implementing structure.
Adriana as a facilitator and speaker is welcoming, energetic and passionate. Working on retreats across Australia and Bali to bring her own signature gift.

SAMPLE DAILY ITINERARY
A Sample Day on the Retreat: (Please note that this is just a sample and may differ on this retreat)
Morning Yoga & Meditation.
Followed by a fresh juice (aligned with the Chakra of the Day).
A beautiful vegan Breakfast.
An in-house workshop led by one of our incredible facilitators (topics may include; abundance, mindset-hacking, manifesting, alignment, sexual healing, eliminating limiting beliefs and fears, heart connection, etc.)
A beautiful vegan Lunch.
An afternoon excursion (may include; holy temples water blessing, colonics, sound healing, cacao ceremony, etc.)
Pre-dinner meditation.
A beautiful vegan Dinner or free-time to adventure around Ubud.
Think luxurious Balinese villas mixed with tropical jungle vibes!

Feast your eyes and your heart on our incredible rooms.
Options include single occupancy or twin share.
DELUXE GARDEN SUITES
Deluxe Garden Suites all afford views of our stunning infinity pool, which seems to lose itself to the verdant rice paddies and jungle that envelopes our sacred space.
Grand spaces, covering up to 90 sqm bring the promise of expanse without losing the intimate feel. Each suite features a living area, dressing room and twin vanity sinks and of course, signature amenities.
$4450pp SINGLE OCCUPANCY
$4050pp TWIN SHARE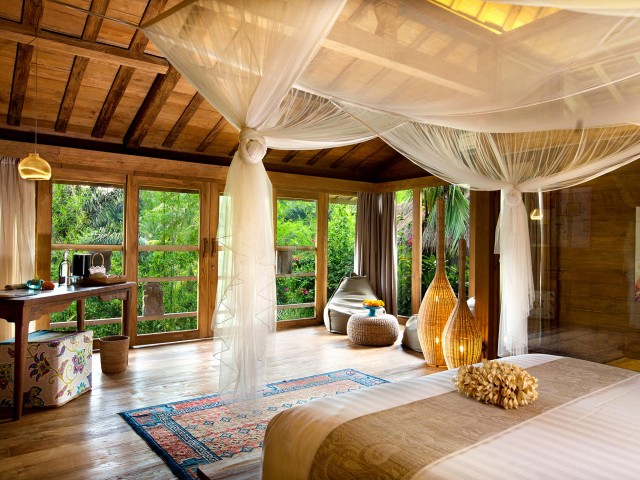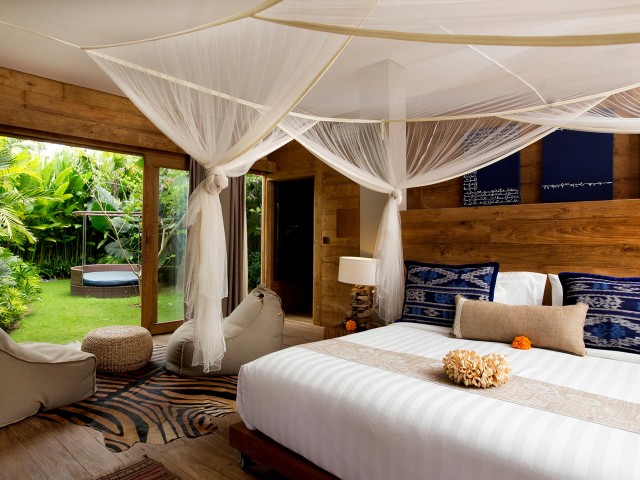 DELUXE GARDEN SUITE SINGLE OCCUPANCY
DELUXE GARDEN SUITE TWIN SHARE
Please note that you will be sharing a room with someone. If you would like to book with a friend, please email us after booking and we will pair you both up. Alternatively, we will pair you up with another guest. We are a group of intuitives, so we will let Source guide us to make the best possible decision.
SUPERIOR GARDEN SUITES
Superior Garden Suites sit at the heart of our nestling escape. Up to 61 sqm, they are intimate yet charming. All situated on the ground floor and boasting their own private entrances.
Benefiting from views of the pool, the tropical jungle and some with half-open bathrooms, each suite has its own living area, dressing area, unique style and ambience.
$3850pp TWIN SHARE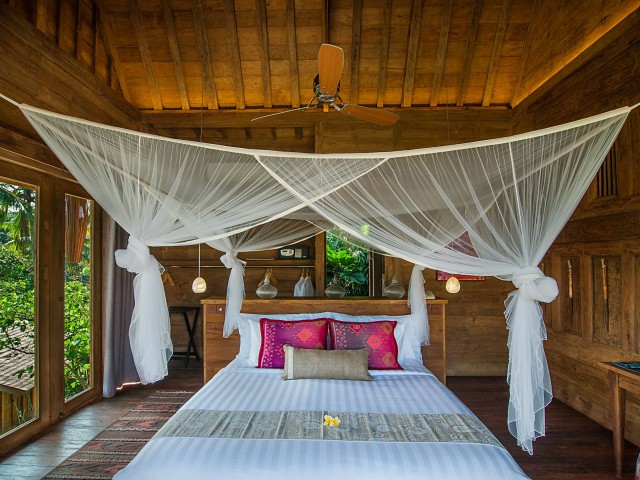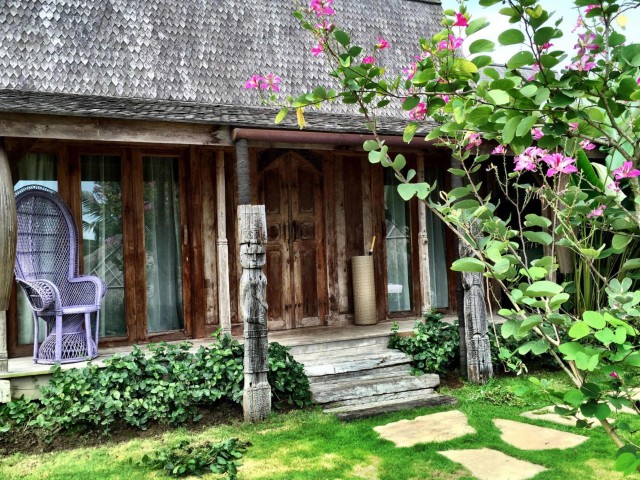 SUPERIOR GARDEN SUITE TWIN SHARE
Please note that you will be sharing a room with someone. If you would like to book with a friend, please email us after booking and we will pair you both up. Alternatively, we will pair you up with another guest. We are a group of intuitives, so we will let Source guide us to make the best possible decision.
THE ROYAL SUITE
Discover our exclusive Royal Suite. With birds-eye views of the lush jungle vistas at every glance and a central bathtub, every effort has been made to ensure you're immersed in nature at every turn.
The suite is 110 sqm of space and luxury like no other, relax and unwind in the living area or enjoy a refreshing drinkbefore dinner as the sun sets, it's a room you'll never be in a hurry to leave.
$4350pp TWIN SHARE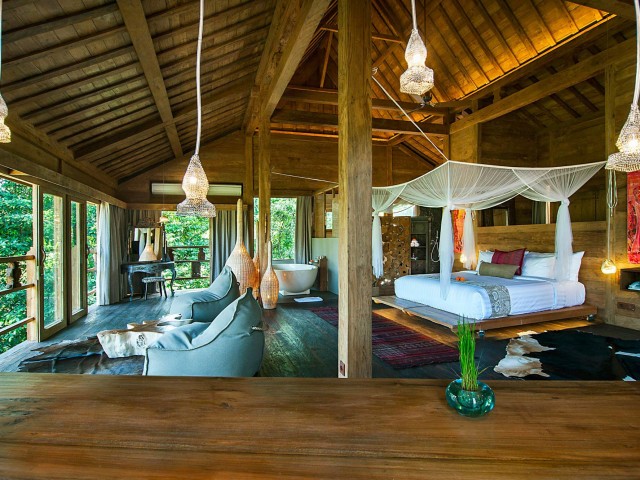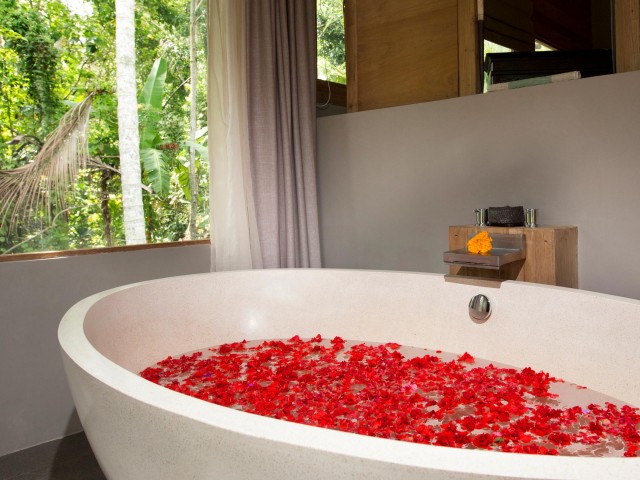 THE ROYAL SUITE - TWIN SHARE
Please note that you will be sharing a room with someone. If you would like to book with a friend, please email us after booking and we will pair you both up. Alternatively, we will pair you up with another guest. We are a group of intuitives, so we will let Source guide us to make the best possible decision.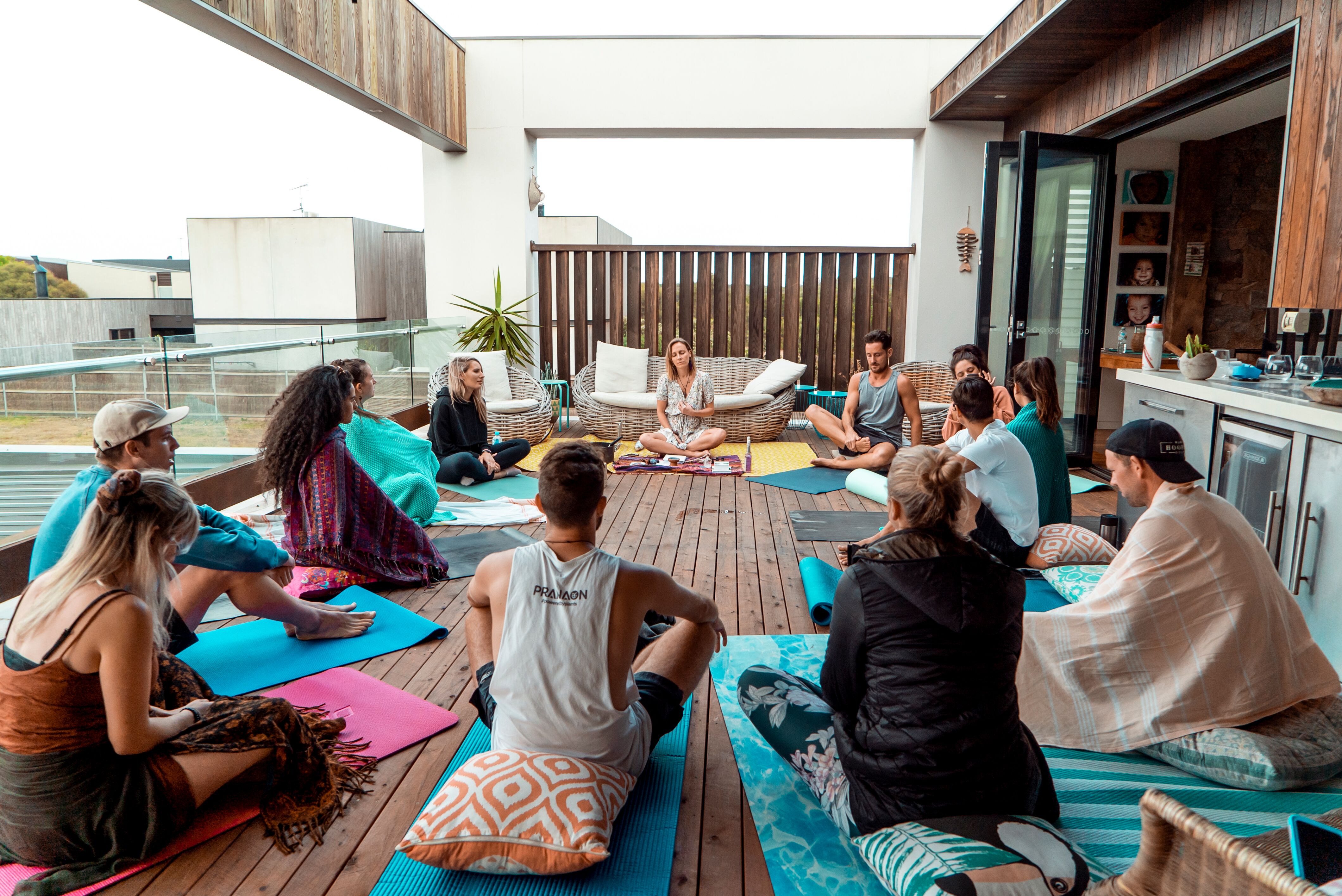 Prices include accommodation, all meals and all activities. Prices DO NOT include airfares, travel insurance and airport transfers.
For questions please email grigoriakritsotelis@gmail.com
WELCOME TO THE SOUL TRIBE
WE CAN'T WAIT TO SEE YOU IN BALI
NAMASTE
COPYRIGHT GRIGORIA KRITSOTELIS 2018 | ALL RIGHTS RESERVED
THIS STUFF BELONGS TO ME - IF YOU STEAL IT, YOU'RE NAUGHTY